Laing Park in Solok City, West Sumatra Province
---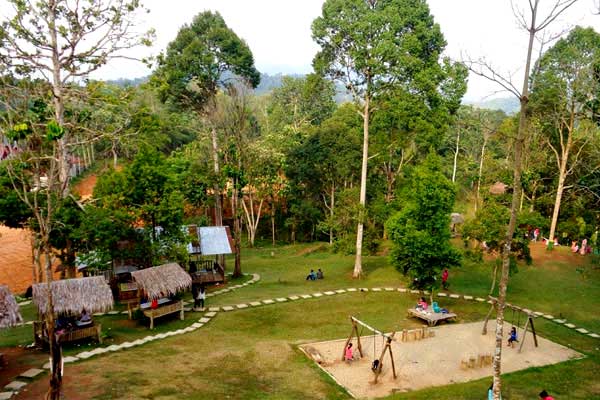 A new popular vacation spot is available to visit in Solok City. The name is Laing Park and it is located in Tanjung Harapan Sub-District. As the name suggests, it resides in Laing Village. The site is known for its tree houses and serene nuance. Thus, it is suitable to relieve stresses and enjoy a rejuvenating ambiance of a highland. This vacation area is located near to the Regent's house and Solok Grand Market. No wonder, tourists can get there fast and easily. As for tourist activities, visitors can enjoy sightseeing, relaxation, family recreation, and exploration.
The Nuance
Laing Park is surrounded by tall trees and green plants. This explains why the nuance feels refreshing and shady there. In terms of size, the vacation area is located on an area of 8 hectares. The location is secluded and unspoiled. There is no pollution! As for the feature, the best one is a couple of tree houses, which is able to accommodate up to 5 adults or 10 kids. The site also provides a flying fox a motocross track for tourists to use. However, these facilities cost some money. Another interesting feature is the presence of a lonely tree or Pohon Jomblo, which is perfect for photography!
Exploring Laing Park
The first thing that tourists can enjoy in Laing Park is none other than the serenity. The location is considered secluded, so visitors can get away from daily working activities and business. The park helps them to eradicate stresses, therefore. Many local families also choose it as their favorite place to enjoy recreation! They often come with kids and other family members. The air is fresh and the panorama is beautiful. Only tall trees and lush plants can be seen there. That means no vehicles and disturbing noises on the site.
Aside from relaxation and recreation, people have other reasons for visiting Lain Park. For example, they want to climb tree houses and enjoy sightseeing. Have no worries. The height of these facilities is moderate, so even kids are able to climb these without hassles. From the tree houses, tourists are able to witness beautiful scenery and feel refreshing air. Moreover, on these trees, they would find several gazebos for relaxation! Each of them is connected by a wooden bridge, as well.
The next activity to enjoy in Laing Park is definitely outbound. After paying the fee, tourists are allowed to ride the flying fox! The length is about 70 meters! Next, there is also Jembatan Buai and Pohon Uji Nyali. These are quite challenging! For kids, they can simply reach the playground area, where slides and swings are located. What is more? The site also offers an agro-tourism to visitors. During the right season, everyone can buy and try delicious Durian during the visit!
Nearby Attractions

Rainbow Garden
Happy Hill
Pulau Belibis
How to Get There
The first destination is Padang City and the best way to get there is by airplane. From Jakarta City, in this case, tourists need to take an airplane at Soekarno – Hatta International Airport and head to Minangkabau Airport. This flight usually takes around 1 hour and 40 minutes. After arriving at Padang, they can head to Solok City directly by taking Selayo – Padang Street. The trip may take around 2 hours and 15 minutes, as the distance is 80 km. From Solok, the next destination is Laing Village and the best route to take is Tembok Raya Street. The distance is 5.9 km, so the trip may only take about 12 minutes.
Where to Stay