Kembar Lake in Solok City, West Sumatra Province
---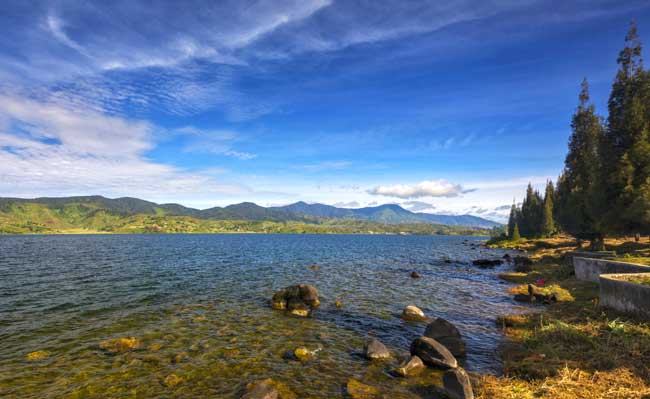 West Sumatra Province has other interesting regions to visit aside from Padang City. For example, there is Solok City. In Solok, tourists may find a unique vacation area called Danau Kembar or the twin lake! The location is in Bungo Tanjung Village and it belongs to Alahan Panjang Sub-District. Even though the popularity is inferior to Talang and Singkarak Lake, this one offers a distinct beauty. As the name suggests, the area consists of two similar lakes. The name is Diateh and Dibawah Lake. Aside from the similar appearance, these lakes are located close to each other. That means tourists can enjoy two beautiful lakes during the same visit.
The Nuance
Kembar Lake offers a beautiful panorama and refreshing weather. The location is on a highland, after all. In fact, the site would be covered by fog in the morning. At the same time, lots of local farms can be seen nearby. Even though the location of Diateh and Dibawah Lake is close to each other, Dibawah is located on higher land. No wonder, the atmosphere feels more rejuvenating there. Plus, Kembar Lake has a mountainous view and serene ambiance. Thus, visitors can enjoy relaxation and sightseeing comfortably there.
Exploring Kembar Lake
The first allure is related to the name of the lakes. "Diateh" means above while "Dibawah" means below. However, the name is opposite to the location. Diateh Lake is located on a lower land while Dibawah Lake is located on higher land. In terms of popularity, people are likely to come to Dibawah, as they are able to see better views from up there. Still, both lakes offer astonishing beauty and relaxing atmosphere.
Even though Kembar Lake looks alluring for swimming and playing water, no one is allowed to get in the water. Even visitors won't be able to ride a boat and get around the lakes. Instead, they can enjoy sightseeing and photography. The best spot to enjoy these is at Dibawah Lake indeed. It is because the lake is located on a hill, so it offers more astonishing panoramas. Some people even say that area is similar to that of New Zealand!
The next allure in Kembar Lake is related to agro-tourism. That area features many local farms and plantations, after all. Tourists can find various commodities like passion fruits and vegetables. Plus, it is possible to buy some at a cheaper price during the visit! Another allure is the presence of a beautiful resort, located near Kembar Lake. The facilities are excellent! Later, in the morning, visitors can also enjoy fishing on both lakes!
Nearby Attractions

Cambai Hill
Mount Talang
Gumanti Valley
How to Get There
The first destination is Padang City (the capital of West Sumatra Province). From Jakarta City, tourists can take an airplane at Soekarno – Hatta International Airport and head to Minangkabau Airport right away. This flight may take around 1 hour and 40 minutes. From Padang, they can take Selayo – Padang Street and reach Solok City. The distance is 80 km, so the trip would take around 2 hours and 15 minutes. From Solok, they must take Solok – Danau Kembar Street and reach Kembar Lake immediately. The distance is 30.7 km, so this trip would take around 1 hour and 12 minutes.
Where to Stay

Tapanca Hostel
Fiada Nafi Inn
Hayati Resort