Arosuka Park in Solok City, West Sumatra Province
---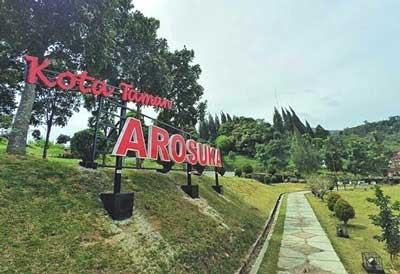 During holidays, tourists are likely to find a good place to spend a family recreation. Those who visit Solok City, in this case, have some nice options. One of them is called Arosuka Park, which is located in Gunung Talang Sub-District. This beautiful recreational area resides in Koto Gaek Guguak Village, actually. The locals often visit this park to spend a weekend and conduct a recreation after works. The location is by the roadside, so everyone can notice the site easily. Not to mention, as the name suggests, the park is located in the capital of Solok City – Arosuka.
The Nuance
Even though Arosuka Park is located in the midst of a city, it offers a highland nuance. That means the air is fresh and the panorama is beautiful. The park also offers a clean and neat environment. Once arriving at the site, tourists would see the big red name sign right away. Other features including grassy landscapes, concrete pathway, pine trees, small plants, garden lamps, and gazebos. As for the views, visitors can see Arosuka City clearly from above. Even the famous Ayam Monument can be seen well from that spot.
Exploring Arosuka Park
Visitors can do many things in Arosuka Park. The most common thing to do is recreation. No wonder, lots of local families often come to the site for gathering and eating together. They take advantage of the unspoiled environment and stunning panoramas to create a memorable moment with family members! The park also comes with neat flower gardens, in fact. Thus, tourists can take selfies and enjoy photography during the visit. Even the name sign of the park is worth a photo shot!
Arosuka Park is known among tourists as their resting spot. That means travelers would drop by for a while in the park during their trip. The purpose is either to rest or enjoy the nuance. After all, the park is located on the roadside, so everyone can approach it easily. These people can simply walk on the pathway while enjoying the ambiance. As an alternative, they can sit on a gazebo and rest for a while before continuing the trip.
Sometimes, Arosuka Park looks peaceful due to a low number of visitors. However, on weekends, it becomes merrier. Lots of local snack vendors are also seen on the site. They sell various snacks and drinks at a cheap price! As an alternative, tourists can carry their foods and eat it together with their family members in the park. What a great way to spend a family recreation!
Nearby Attractions

Talang Mountain
Tugu Ayam
Sarasah Waterfall
How to Get There
First, it is recommended to reach Padang City by airplane (especially for outsiders). From Jakarta City or Soekarno – Hatta International Airport, a flight to Minangkabau Airport may take around 1 hour and 40 minutes. From Padang, tourists should head to Solok City by taking Selayo – Padang Street. This trip may take around 2 hours and 15 minutes, as the distance is 80 km. Next, they can reach Arosuka Park directly by taking Raya Solok – Padang Street. The distance is 21.3 km, so the trip may take around 36 minutes.
Where to Stay

Taufina Hotel
Caredek Hotel
Mami Hotel