Kapalo Banda Koto Hilalang Waterfall in Solok City, West Sumatra Province
---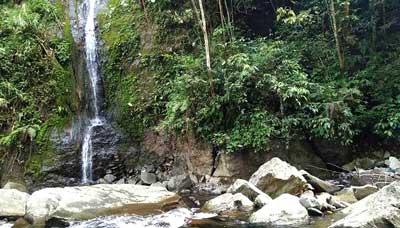 Even though Solok City is known for its highlands, the region also has some beautiful hidden waterfalls for tourists to explore. One of them is called Kapalo Banda Koto Hilalang Waterfall. As the name suggests, this stunning waterfall is located in Koto Hilalang Village and belongs to Kubung Sub-District. Also, it is located hidden in the midst of a forest. No wonder, visitors need to pass through lush trees and challenging routes in order to reach the waterfall. In fact, people can only access the site on foot. Vehicles are not able to enter the area, after all.
The Nuance
Due to the seclusion, the waterfall offers a quiet nuance. As mentioned before, the location is in the midst of a forest, so it feels so peaceful and relaxing. The waterfall is surrounded by lush trees and plants. In terms of size, it is short and has a small water discharge. The best feature perhaps is the astonishing natural pond, located below it. Some rocks and flowers are also seen in that area. What is next? Visitors should not expect facilities there. What they can find is only unspoiled nature.
Exploring Kapalo Banda Koto Hilalang Waterfall
So, what makes the waterfall interesting? Tourists usually take advantage of the seclusion to enjoy exploration and lessening. In order to reach the site, everyone should conduct an exploration and short trekking, after all. Instead of being a burden, it gives a nice experience to adventurers and those who love nature. Plus, the serenity helps tourists to get rid of stresses at once! The number of visitors is low, so they won't get disturbed when enjoying the nuance.
Tourists may pass through hills and forest when walking to Kapalo Banda Koto Hilalang Waterfall. This becomes a worthy experience despite the tiredness. As for the route, it would be a little bit challenging to some people, though. Thus, it is recommended to hire a local guide who knows the direction well. For the information, this trekking may take around 1 hour. In order to avoid tiredness and thirst, in this case, tourists must carry bottled water and some snacks.
Once arriving at the location, everyone would get the rewards! A peaceful nuance combines well with beauty. The natural pond even looks alluring, so people are likely to get in it for bathing. The serenity is superb! Visitors can only hear the sound of gurgling water and songs of birds there. Despite the small size, the waterfall also becomes a nice background for photography. So, don't forget to carry a camera.
Nearby Attractions

Ngungun Saok
Puncak Kode
Jembatan Gantung Jawi-Jawi
How to Get There
The first destination is Padang City and the most recommended transportation service is an airplane. For example, a flight from Soekarno – Hatta International Airport to Minangkabau Airport may take around 1 hour and 40 minutes. From Padang, tourists can take Selayo – Padang Street and head to Solok City right away. This trip usually takes around 2 hours and 15 minutes, as the distance is 80 km. From Solok, the next destination is Koto Hilalang Village and the best route to take is Salayo – Gantung Diri Street. The distance is 18.6 km, so this trip would take around 45 minutes.
Where to Stay

Mami Hotel
Caredek Hotel
Taufina Hotel