Alahan Panjang Tea Plantation in Solok City, West Sumatra Province
---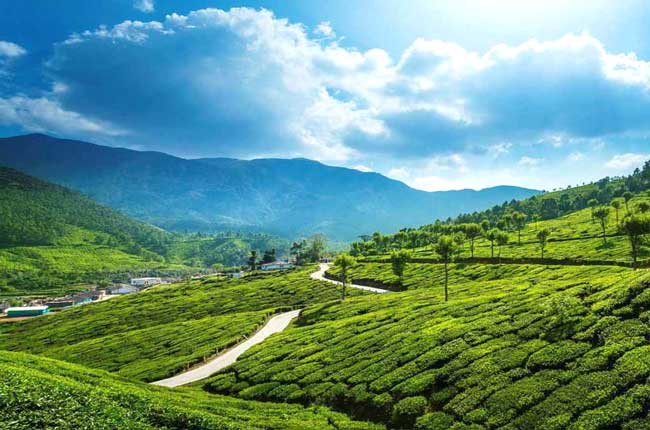 West Sumatra Province is a rich region, especially when it comes to nature. In Solok City, for example, tourists can find a serene vast tea plantation called Alahan Panjang. Perhaps, it is quite similar to that of Bogor's tea plantation. Along the way to the hill and mountain, tourists may witness this amazing landscape. The location is in Nagari Batang Barus Village and it belongs to Gunung Talang Sub-District. Even though it hasn't become an official tourist site, the tea plantation never fails to satisfy visitors. People can enjoy relaxation, photography, and watching local farms' activity on the site.
The Nuance
In terms of nuance, Alahan Panjang Tea Plantation is definitely rejuvenating. The vast green tea fields would welcome everyone during the visit. Not to mention the air feels so refreshing, as the location is on a highland. In fact, in the morning, the weather feels so cold or chilling. This is why everyone should wear a comfy jacket when exploring the site. Plus, the environment is quite peaceful due to a low number of passing vehicles. Many local farmers are seen working on those fields, though.
Exploring Alahan Panjang Tea Plantation
So, what can tourists enjoy in Alahan Panjang Tea Plantation? The most common reason for visiting the site is to enjoy relaxation. This should be done at the right time, though, which is either in the early morning or afternoon. The air feels relaxing at those times. Tourist may see vast tea fields and green plants during the exploration! The serene nuance, somehow, helps visitors to get rid of their stresses. For the information, this exploration can be done either by foot or vehicle. The area is wide enough to explore!
Many reasons make most tourists come to Alahan Panjang Tea Plantation the morning. For example, they want to enjoy a warm sunrise while hanging out on local coffee shops. Drinking this delicious beverage in the morning and watching tea plantation on the horizon is a great combination! The price is cheap and tourists can even get some snacks like bread and traditional fries. Plus, the ambiance feels great due to the presence of locals who also enjoy the same drink on the same site with tourists.
What is next? Alahan Panjang Tea Plantation is suitable for photography. Tourists can simply take photos of tea fields during the exploration. Another idea is to approach local farmers and take photos with them. This can be done freely! There is no ticket fee at all to enter and explore the site. Later, visitors can also roll out a mat and conduct a family recreation and eating together!
Nearby Attractions

Cambai Hill
Gumanti Valley
Danau Atas Pier
How to Get There
Well, tourists should head to Padang City first and it can be done fast by airplane. From Jakarta City, a flight from Soekarno – Hatta International Airport to Minangkabau Airport may take around1 hour and 40 minutes. From the airport, tourists can head directly to Solok City. This can be done by taking Selayo – Padang Street and the trip would take around 2 hours and 15 minutes. The distance is 80 km, after all. Once arriving at Solok, they may continue the trip and head to Nagari Batang Barus Village where the tea plantation is located. The distance is 41.8 km, so this trip would take around 1 hour and 17 minutes.
Where to Stay

Danau Diatas Inn
Danau Atas Resort
Hayati Resort