Visiting Solok City in West Sumatra Province
---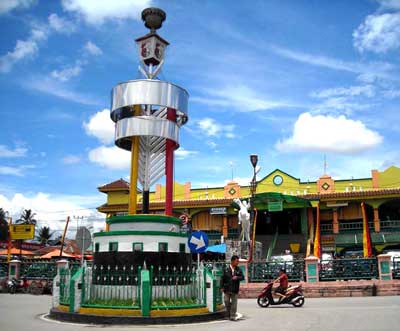 Perhaps some tourists haven't heard about Solok City in West Sumatra Province. Still, this region becomes a worthy vacation spot to visit during weekends and holidays. The location is strategic, so everyone can drop by easily. The only issue is related to tourism reference. That means first-timers should gather information about best vacation spots in Solok. As an alternative, they can hire either a tour agent or local guide who knows the region well. As for allures, tourists can visit various natural attractions especially highlands and waterfalls. Solok is also known for their traditional snacks and foods, actually.
The Nuance
Once arriving at Solok City, tourists may meet friendly locals. These people have adapted to a modern way of living, actually. In terms of size, the region has a total area of about 57.64 km per square. It is bordering with Padang City, as well, so tourists can access the site easily. Next, the landscape is hilly, so visitors can find several attractive highlands to enjoy sightseeing and photography. Several rivers also cross Solok, including Batang Air Binguang, Batang Gawan, and Batang Lembang!
Exploring Solok City
The real question is what tourists might do once arriving at Solok City. The locals would recommend both natural attractions and historical sites, for sure. These days, people are talking about an amazing recreational area called Belibis Island. The location is in Kampung Jawa, which is near to the downtown. In this area, visitors can find various allures including racetrack and Pramuka Field. Not to mention beautiful many grouses live there. As for other recommended vacation spots, Solok has several famous sites including Gagoan Peak, Laing Park, Singkarak Lake, Gobah Peak, Sarasah Batimp Waterfall, Kapalo Banda Waterfall, and much more!
After visiting those amazing places, tourists must try some local foods and snacks too! Solok City offers lots of delicious snacks and foods! All of them are affordable and easy to find! These include Makademia nuts, Palai Baluik, Dendeng Pucuk Ubi, Limpiang Pinyaram, and much more! As for beverages, tourists should try Solok Selatan Tea and Coffee! Visitors can enjoy these either at hotels or local eateries. One thing, the price varies depending on where they buy them.
Another allure in Solok City is related to culture and traditional ceremonies. Well, some people who live in Solok retain their culture, after all. This explains why tourists would find Gadang houses there. As for traditions, the most recognizable one perhaps is the ancient culture called Nandabiah Kabau Nan Gadang. The locals also call it "Turun Ke Sawah". It is done before the planting season, so tourists must come at the right time to watch it.
Nearby Attractions

Pulau Belibis
Laing Park
Puncak Kode
Puncak Panarian
Happy Hill
How to Get There
From Jakarta City, tourists should take Soekarno – Hatta International Airport and get to Padang City first. A flight to Minangkabau Airport may take around 1 hour and 40 minutes from there. Next, from Padang, they should take Selayo – Padang Street and head to Solok City. This trip would take around 2 hours and 15 minutes, as the distance is 80 km. Once arriving at Solok, it is recommended to find a good hotel for resting before exploring the region.
Where to Stay

Mami Hotel
Caredek Hotel

Latest News
What do tourists know about Bukittinggi City? Well, most of them recognize it as the capital of West Sumatra Province belongs to Indonesia. Some of them are even aware of its tourism potential, so they keep coming to the region over time, especially during long holidays. Not only it becomes the governmental center of West Sumatra, the city was once the capital of West Sumatra and Sumatra Province! Moreover, in the past, it was called Fort de Kock and known as the birthplace of a famous person named Mohammad Hatta…
---
  Langkisau peak tourism object is located at the edge of the koto Painan with a height of about 500 meters above sea level and it offers an inspiring beauty. Langkisau peak is an area of excellent Pessel which have tourism potential that should be developed, because this area is at a height so that people who visit will be able to see the beautiful scenery and fascinating about the city Painan and Sago District IV of Jurai. At night, will be more lively enchanted by beautiful night scenery that…
---
  Siberut Island Becomes part of Mentawai Islands, Siberut is the largest island at the northernmost and becomes the main important island for Mentawai People.  The Mentawai tribe still maintains the lifestyle and traditions passed down from their ancestors from thousands of years ago. They live in houses locally called 'uma', made from wooden scaffolds which house contains several families each. Siberut is located in the Indian Ocean, approximately 100 km off the west coast of West Sumatra, and separated from the main island by the Mentawai Strait. The island…
---
Sawahlunto is one of provinces in Indonesia, precisely in West Sumatera, Indonesia. This town is located in 95KM Northeast of Padang and surrounded by 3 districts in West Sumatera, which is Tanah Datar, Solok and Sijunjung. Sawahlunto is divided into 4 sub-districts and it has 273,45 km², with populated by 54.000 people. During Dutch civilization, Sawahlunto was popular as coal mining town. After being a death town, during the closing of the mining, Sawahlunto nowadays becomes the growing city with multi-ethnicity inside the community, and awarded as the best old…
---