Melanggar Waterfall
---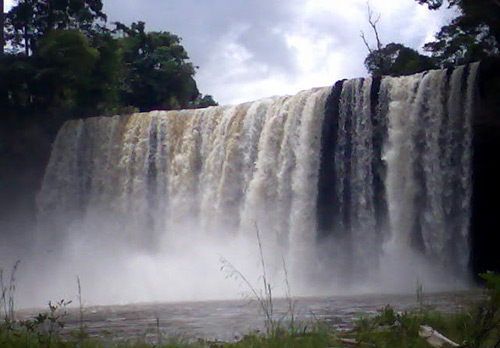 Melanggar Waterfall or often called Banangar, Mananggar, and Menaggar is a broken fragment of Landak River who became nature waterfalls located in Air Besar District, Landak Regency. The waterfall is located in the upper Landak River, about 290 km northeast of Pontianak, the capital of West Kalimantan province. Melanggar Waterfall has a height of about 60 m and a width of 60 m which offers very beautiful natural charm.
The uniqueness of Melanggar Waterfall is there a lake under a waterfall with an area of approximately 2 hectares that is round and can be used for bathing, swimming and fishing. Furthermore, on the top mountain there Pejapa with a height of 1,019 m surrounding the Melanggar Waterfall and contained intact forests and protected. And finally, across the river there Sanjan cave contained small waterfalls and small streams.
Access to the base of waterfall is still very difficult. Roads were only trails, covered undergrowth so that the visitors prefer to enjoy on the top of waterfall. To enjoy it, visitors will traverse a long trip and winding. To visit Melanggar Waterfall, it takes about 6 to 7 hours use vehicles from Pontianak to Air Besar Districts. Located about 260 km from Pontianak that start from Ngabang to Serimbu. From Serimbu Village, cross Landak River by motor boat and arrived at Melanggar Waterfall.

Latest News
Indonesia is a country of Bhinneka Tunggal Ika, where there are many provinces inhabited by various ethnic groups. Not only the culture and cuisine are different, the traditional house designs of each province are also different. Traditional house designs have their own philosophy and function. It's no wonder that none of the designs are exactly the same, including the West Kalimantan traditional house belonging to the Dayak tribe named Rumah Radakng. Radakng's house is often also referred to as a long house. This term really describes the state of a…
---
Temajuk marks the point where Indonesia ends and Malaysia starts. Not yet known to many domestic and international travellers, Temajuk Village features a tidal beach with soft, white sands dotted with granite rocks. Underwater sightseeing is made possible as the water is clear. Temajuk beach, actually running at a very long 60 km of coastline, is a tidal coast area featuring soft, white sand and preserved environment. One thing that differs this beach from Balinese beaches is portruding granite rocks distributed evenly throughout the coastal environment. In places, granite rocks…
---
Sinka Island Park Singkawang is a small town in the west Kalimantan, but there are many interesting tourism inside the town. One of popular destinations in Singkawang is Sinka Island Park; there is a zoo which has many kind of animals and a recreational park family vacation and playground for children. Sinka Island Park is located in " kelurahan sedau", " kecamatan Singkawang selatan", around 9 km from Singkawang center. To reach this park, from Singkawang center you can go to there by bus, motorcycle, and our personal vehicle. In…
---
Pontianak Pontianak is officially the capital city of West Kalimantan province, the ethnic of Tionghoa call this city as Khun tien. This city is famous as the City of Equatorial for it passed by the earth zero degrees latitude. The name of Pontianak was belived had something to do with the folk tale about Syarif Abdurrahman which was haunted by the ghost of Kuntilanak when he walked along the 1.1 megameter Kapuas River, which is the longest river in Indonesia. Abdurahman Sharif had fired the cannon to drive away the…
---