Amantubillah Palace
---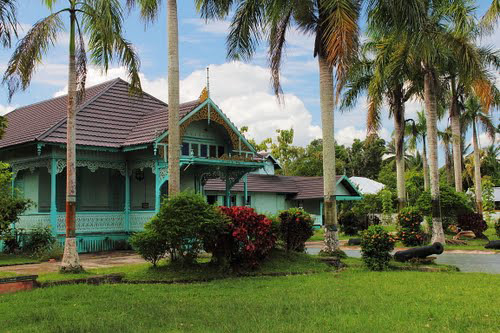 Amantubillah Palace stands firmly in Pulau Pedalaman Village, Mempawah Timur District, Pontianak Regency of West Kalimantan. The palace was built during Gusti Jamiril Government which has Panembahan Adi Wijaya Kesuma (1761 - 1787) which is the 3rd sultan of the Sultanate Mempawah 3.
Amantubillah Palace has a dominant color green. Arrived at Amantubillah Palace, visitors will be greeted gate of the palace that reads "Mempawah Harus Maju, Malu Dengan Adat", it means "Mempawah must go forward, embarrassed by Indigenous". Once through the gate, we will see a field with green grass with a few cannons are placed above the grass.
Amantubillah Palace buildings consists of three parts. The main building is located in the middle, while the buildings are in the right-wing supporters and left. The main building was formerly a sultan's throne and the empress, and the sultan and his family residence. In this room visitors can see pictures of the sultan and his family, keris, over sized clothing, and the royal umbrella. Building the right-wing palace formerly used as a place to prepare for and place of the family palace banquet. Now, the building functioned as a residence courtiers. While building the left wing of the palace functioned as a hall of the palace. The building was formerly used as a hall and a place to take care of all things relating to government administration.
In the palace complex, visitors can see the swimming baths former sultan and his family. Unfortunately, the swimming baths is not working anymore, because of silting and closing of the water channel that connects the pond with child Mempawah River. In addition, visitors can still see the former resting place and place of leisure (the gazebo), the sultan and his family. In the vicinity of the Palace Amantubillah there are facilities such as mosques, places of accommodation, food stalls, kiosks and stalls.
How to get there: To reach Amantubillah Palace is easy to access. The road to this palace is paved smooth, making it easier for visitors who use the two-wheeled vehicle or four wheel to access them. Mempawah City is about 67 kilometers north of Pontianak, the capital of West Kalimantan Province. From Supadio Airport or Bus Terminal Pontianak, visitors can take a taxi, travel, and the bus until Mempawah City, the capital of Pontianak regency. From City Mempawah, Amantubillah Palace is about 10 kilometers with a travel time of about two hours. Visitors can access the palace around the area hill Rama is by bus or minibus.

Latest News
Indonesia is a country of Bhinneka Tunggal Ika, where there are many provinces inhabited by various ethnic groups. Not only the culture and cuisine are different, the traditional house designs of each province are also different. Traditional house designs have their own philosophy and function. It's no wonder that none of the designs are exactly the same, including the West Kalimantan traditional house belonging to the Dayak tribe named Rumah Radakng. Radakng's house is often also referred to as a long house. This term really describes the state of a…
---
Temajuk marks the point where Indonesia ends and Malaysia starts. Not yet known to many domestic and international travellers, Temajuk Village features a tidal beach with soft, white sands dotted with granite rocks. Underwater sightseeing is made possible as the water is clear. Temajuk beach, actually running at a very long 60 km of coastline, is a tidal coast area featuring soft, white sand and preserved environment. One thing that differs this beach from Balinese beaches is portruding granite rocks distributed evenly throughout the coastal environment. In places, granite rocks…
---
Sinka Island Park Singkawang is a small town in the west Kalimantan, but there are many interesting tourism inside the town. One of popular destinations in Singkawang is Sinka Island Park; there is a zoo which has many kind of animals and a recreational park family vacation and playground for children. Sinka Island Park is located in " kelurahan sedau", " kecamatan Singkawang selatan", around 9 km from Singkawang center. To reach this park, from Singkawang center you can go to there by bus, motorcycle, and our personal vehicle. In…
---
Pontianak Pontianak is officially the capital city of West Kalimantan province, the ethnic of Tionghoa call this city as Khun tien. This city is famous as the City of Equatorial for it passed by the earth zero degrees latitude. The name of Pontianak was belived had something to do with the folk tale about Syarif Abdurrahman which was haunted by the ghost of Kuntilanak when he walked along the 1.1 megameter Kapuas River, which is the longest river in Indonesia. Abdurahman Sharif had fired the cannon to drive away the…
---