Kijing Beach
---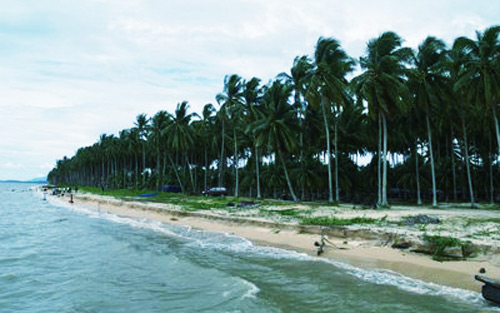 Kijing Beach has long been a mainstay tourist attraction in Pontianak Regency. This beach attracts tourists because of its coastal full of palm trees and white sand gently sloping. The name Kijing derives from the kind of small shell and elongated that is widely available on the beach. Before becoming a tourist location as it is now. Kijing Beach is a place of mangrove forest with different types of marine life such as crabs, clams, and so forth.
Along Kijing Beach, starting from the South to the North are visible only white sand and the shade of palm trees as shelter. Atmosphere of the beach is undeniable provides its own beauty. Moreover, on early afternoon and the time setting of sun on the horizon, giving satisfaction to visitors.
The distance to reach this location about 70 km from Pontianak City of West Kalimantan. Kijing Beach is a beautiful beach, located 18 km from the Northern of Mempawah City towards Singkawang. In fact, administratively, the beach location is in Mempawah. Which covers 254.40 km have called by the locals as Bumi Galahherang. The city is located on the trade route between Pontianak, Singkawang and Sambas. Territory bordering with Bengkayang in the north, Ketapang in the South and Natuna Sea in the West and Landak Regency in the East.
How to get there: Kijing Beach is one of the favorite attractions in West Kalimantan. Precisely lies in km 84 Sungai Sekunyit Village, Sungai Kunyit District, Mempawah of Pontianak Regency. The beach is surrounded by hills and palm trees can be reached by using a motorcycle or car. Required travel time of about 3 hours from Pontianak City heading to Kijing Beach. The beach had been seen from the highway.
The road to the beach most of the panoramic rice fields owned by local residents. The highway itself is flanked by a beach. On the right of the beach are the location of motor racing track and full of palm trees. The beach on the left facing the hill where provided canteen places to eat and drink visitors. Formerly Kijing Beach is the natural habitat of mangrove forest with marine fauna such as clams.
Ticket are quite affordable. Visitors only charged entrance fee of 5.000,- rupiahs per person. The facilities available are quite complete. There is a cafeteria, stage performances, and place of worship such as mosque and temple, as well as garden. The quiet beaches and lush is very suitable for family recreation. On holiday or Eid are usually crowded by tourist arrivals. Besides Kijing Beach, also has a separate icon namely Pontianak Monument or Equator Monument. This monument was built right on the equator. Still in Pontianak, namely Pulau Temajo located across Kijing Beach.

Latest News
Indonesia is a country of Bhinneka Tunggal Ika, where there are many provinces inhabited by various ethnic groups. Not only the culture and cuisine are different, the traditional house designs of each province are also different. Traditional house designs have their own philosophy and function. It's no wonder that none of the designs are exactly the same, including the West Kalimantan traditional house belonging to the Dayak tribe named Rumah Radakng. Radakng's house is often also referred to as a long house. This term really describes the state of a…
---
Temajuk marks the point where Indonesia ends and Malaysia starts. Not yet known to many domestic and international travellers, Temajuk Village features a tidal beach with soft, white sands dotted with granite rocks. Underwater sightseeing is made possible as the water is clear. Temajuk beach, actually running at a very long 60 km of coastline, is a tidal coast area featuring soft, white sand and preserved environment. One thing that differs this beach from Balinese beaches is portruding granite rocks distributed evenly throughout the coastal environment. In places, granite rocks…
---
Sinka Island Park Singkawang is a small town in the west Kalimantan, but there are many interesting tourism inside the town. One of popular destinations in Singkawang is Sinka Island Park; there is a zoo which has many kind of animals and a recreational park family vacation and playground for children. Sinka Island Park is located in " kelurahan sedau", " kecamatan Singkawang selatan", around 9 km from Singkawang center. To reach this park, from Singkawang center you can go to there by bus, motorcycle, and our personal vehicle. In…
---
Pontianak Pontianak is officially the capital city of West Kalimantan province, the ethnic of Tionghoa call this city as Khun tien. This city is famous as the City of Equatorial for it passed by the earth zero degrees latitude. The name of Pontianak was belived had something to do with the folk tale about Syarif Abdurrahman which was haunted by the ghost of Kuntilanak when he walked along the 1.1 megameter Kapuas River, which is the longest river in Indonesia. Abdurahman Sharif had fired the cannon to drive away the…
---