Betang House
---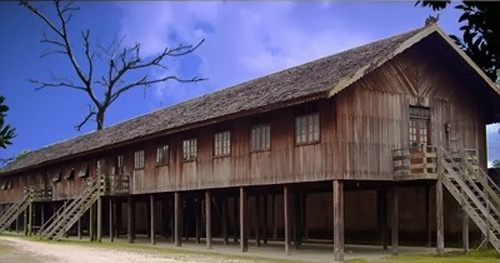 Betang House is a traditional long house of Dayak tribe in West Kalimantan which was constructed by the city government reaches 310 m length and 18 m wide, now is dwelt about 34 family heads, which still have family relation. Located in Saham Village, Sengah Temila District it is not far from International road Pontianak - Kuching. Be the only omission of the Dayak long house in Pontianak regency.
More than a building to stay of Dayak, actually Betang House is the heart of the social life of Dayaks. Betang culture is a reflection of the unity in daily life of Dayak. In this Betang House each individual life in the household and society systematically arranged by mutual agreement as outlined in customary law. Mutual security, whether from criminal interference or sharing food, love, grief and mobilization of labor to work the fields. The main value stands out in long house life is the value of togetherness (communalism) among the citizens who inhabit it, in spite of differences they have. From here we know that Dayak tribe is a tribe that appreciates a difference. The Dayak respect differences of ethnicity, religion or social background.
Betang characterized in that; Stage shape, elongated. In particular Dayak tribe, construction long house upstream should be the direction of the sun rises and the next downstream toward sunset, as a symbol of hard-working to survive from the Sun to grow and go home in the Sun extinguished.
The room at Betang House consist of three parts; the first main room of house, the second chamber gong sounds, and the third is physical room (Ragawi) that is not visible. The main room is a room with a man who connects to heavenly realm (Surgawi). The second room is a room that connects human beings with heavenly inhabitants (Surgawi), and the third is the heavenly room that also is a physical room. While the death is the most important thing in Dayak Ngaju live, because through the death of spirit of a Dayak can be dispatched into the heavenly realm, through Tiwah ceremony. In which there are significant percussion ritual purification.
Half of Betang House is open space. This space is called radakng (veranda) that is used for a variety of daily activities of inhabitants, such as the traditional rituals, wicker crafts. Namely the patio or Pante, the lobby which is used to gather the whole family and sleeping or booth that is a personal room of each head of the family. Betang House or Betang Radakng government is made of ironwood and decorated with carvings and paintings Dayak. At certain moments, the house was used as a dance training and other art performances.

Latest News
Indonesia is a country of Bhinneka Tunggal Ika, where there are many provinces inhabited by various ethnic groups. Not only the culture and cuisine are different, the traditional house designs of each province are also different. Traditional house designs have their own philosophy and function. It's no wonder that none of the designs are exactly the same, including the West Kalimantan traditional house belonging to the Dayak tribe named Rumah Radakng. Radakng's house is often also referred to as a long house. This term really describes the state of a…
---
Temajuk marks the point where Indonesia ends and Malaysia starts. Not yet known to many domestic and international travellers, Temajuk Village features a tidal beach with soft, white sands dotted with granite rocks. Underwater sightseeing is made possible as the water is clear. Temajuk beach, actually running at a very long 60 km of coastline, is a tidal coast area featuring soft, white sand and preserved environment. One thing that differs this beach from Balinese beaches is portruding granite rocks distributed evenly throughout the coastal environment. In places, granite rocks…
---
Sinka Island Park Singkawang is a small town in the west Kalimantan, but there are many interesting tourism inside the town. One of popular destinations in Singkawang is Sinka Island Park; there is a zoo which has many kind of animals and a recreational park family vacation and playground for children. Sinka Island Park is located in " kelurahan sedau", " kecamatan Singkawang selatan", around 9 km from Singkawang center. To reach this park, from Singkawang center you can go to there by bus, motorcycle, and our personal vehicle. In…
---
Pontianak Pontianak is officially the capital city of West Kalimantan province, the ethnic of Tionghoa call this city as Khun tien. This city is famous as the City of Equatorial for it passed by the earth zero degrees latitude. The name of Pontianak was belived had something to do with the folk tale about Syarif Abdurrahman which was haunted by the ghost of Kuntilanak when he walked along the 1.1 megameter Kapuas River, which is the longest river in Indonesia. Abdurahman Sharif had fired the cannon to drive away the…
---