Kemaro Island
---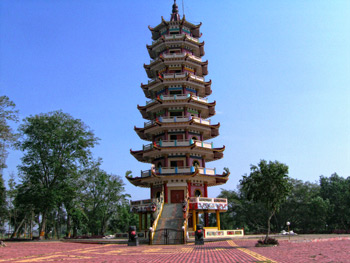 Kemaro Island is one of most popular destinations in South Sumatera. This island is located in a smaal delta of Musi River, about 6km downstream of Ampera Bridge. Browse Takealot Specials on ESpecials. Kemaro Island is lies in between the industrial areas of Sriwijaya Fertilizer Plant and Pertamina Oil Refinery in Plaju and Gerong River. It precisely located for about 40km from Palembang.
When visiting Kemaro Island, there will be a Chinese Vihara or Klenteng with 9 stairs, typically Chinese building in the middle of the island. This Hok Tjiang Rio temple was build since 2006 and becomes the signature icon in this island. Moreover,  on the island there is a Buddha temple that oftenly visited by Buddhists follower to pray or to visit the graves.
This island becomes more crowded during Chinese festivals like Cap Go Meh or Imlek New Year. In front of Klenteng, there is grave yard of Prince Tan Bun An from Chinese and Princess Siti Fatimah of Sriwijaya. By their love story, this island is made up and popular to be Pulau Jodoh or Mate Island.