Hotels In South Sumatra
---
Swarna Dwipa Hotel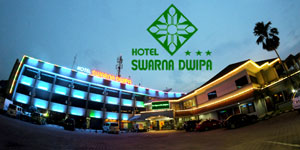 The best choice to get comfortable and most relaxing atmosphere in the city completed with our well trained and friendly staff, it is only take 20 minutes from the sultan Mahmud Badaruddin II airport and 5 minutes from shopping centre. Swarna Dwipa Hotel features a large outdoor pool. It also provides free Wi-Fi accessible from all areas of the hotel. Cosy furnished bedrooms include a flat-screen TV, wardrobe, electric kettle and desk. The in-house restaurant serves Indonesian and international cuisines, there is also a karaoke bar in the hotel.
Jl. Tasik No.2 Kota Palembang
Palembang, South Sumatera 30136
Phone: +62711 313322
Web: hotelswarnadwipa.co.id
Emilia Hotel By Amazing - Palembang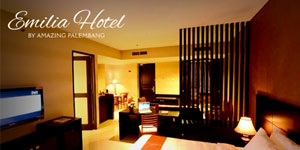 Emilia Hotel in Palembang, Indonesia is yet another of Amazing Hotel Management's impressive 3-star hotels. It is conveniently located inside the Palembang Indah Mall complex, surrounded by commercial, government, and shopping destinations that guests easily enjoy quick access to the heart of a major shopping area in Palembang. That alone already ensures that your stay will be convenient, whether you're at Emilia Hotel for business or leisure.
Jl. Letkol Iskandar No. 18
Palembang, South Sumatera 40115
Indonesia
Phone: +62 711 5630099
Web: emilia-hotel.com
Red Planet Palembang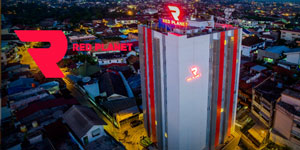 Designed to enhance travel experiences by giving business and leisure travellers everything they need while avoiding services that are more of a hindrance than help. Palembang is the capital of South Sumatra and is located on the banks of the Musi River. The 147-room Red Planet Palembang is 40 minutes from Sultan Mahmud Badaruddin II International Airport and provides convenient access to the destination's must-see attractions including the Ampera Bridge, the Great Mosque of Palembang (Masjid Agung Palembang), and the 18th century palace Benteng Kuto Besak.
Jl. Jenderal Sudirman KM. 3,5 Palembang
Palembang, South Sumatera 30129
Indonesia
Phone: +62 711 315 222
Web: redplanethotels.com
Hotel Aryaduta Palembang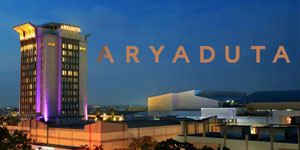 Situated beside Palembang's largest mall, Palembang Square Mall, Hotel Aryaduta offers elegant accommodation with free WiFi and parking. Guests enjoy access to a fitness centre and outdoor pool with cafe. Relax in Aryaduta Palembang's 5-star rooms, which are decorated with classic light wood furnishings and pleasant neutral shades. They have cable TV, a fridge and free tea/coffee making amenities. Soothing aromatherapy massages and treatments await at Aryaduta's spa after a day of activity. Staff at the 24-hour reception can provide business and concierge services
Jl. POM IX, Palembang Square
Palembang, South Sumatera 30137
Indonesia
Phone: +62 711 383 838
Web: aryaduta.com

Latest News
Lake Toba not only offers natural tourism, but also cultural tourism. One of the cultural attractions that can be visited is Huta Tinggi Village on Samosir Island, North Sumatra. This village offers tour packages with the life of the Batak people theme who live in the area. If you choose the tour package, visitors will participate in various local community activities, from milking buffalo, to enjoying the view of the lake on the hill. Playing Musical InstrumentsHuta Tinggi Village visitors will be greeted by the strains of traditional Batak music…
---
Bumiayu Temple Bumiayu temple is one of heritages from Hindu era. It located in coastal river of Lematang, administratively in Bumiayu village, Tanah Abang sub-district, Penukal Abab regency, Pematang Ilir. This temple is the only complex of temples in South Sumatra. Until today, there are less than 9 temples that been found in this area, and four of them have been restored, those are Temple 1, Temple 2, Temple 3 and Temple 8. This preservation has begun since 1990 till now. This temple complex covers an area of 75.56 ha,…
---
Compared to other areas in the vicinity, one of the attractions in the city of Palembang, South Sumatra has a higher contour, about 27 feet above sea level, and is touted as the highest position in the city. However, rather it is a privilege Siguntang Hill. Log into the region, people may think that this place is a garden complete with shady trees and benches that can be used to spend the day. But who would have thought if the Mount Siguntang is an important historic place, especially for Palembang.…
---
Mount Dempo is one of the natural attractions Lahat regency. The highest mountain in South Sumatra, this can be achieved directly from Palembang by private vehicle for about 6 hours, a distance of over 295 km. Can also use the public bus from Lahat to Pagar Alam (60 km), and from here followed by another bus travel a distance of 9 km up to the plantation and tea factory mountainside. You can stay in the mess that is available while enjoying the beautiful natural scenery around it. But if you…
---