Bedegung Waterfall
---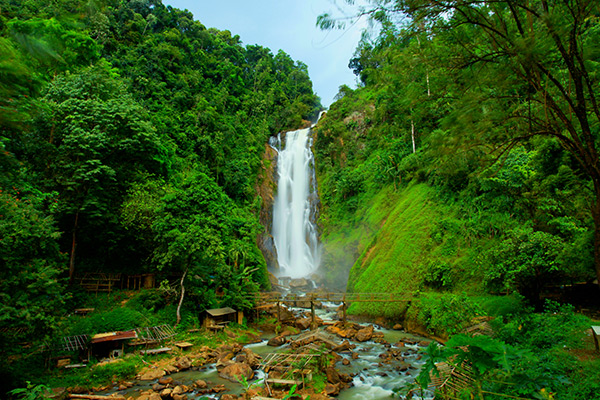 Bedegung is a waterfall that often called Curup Tenang. This is the highest waterfall in South Sumatra, which is located near the Bedegung village, Tanjung Agung sub District, about 56 km south of the Muara Enim.
This 99 meters high waterfall is sourced from springs that never dry in the gap mountain and falling down to form a small and rapid river. By the rapidness of this river, many tourists use it for rafting. Bedegung is a natural attraction that located in the district of Tanjung Agung.
By having 99 meters high, this waterfall is becomes one of the highest waterfalls in Indonesia after Sigura Gura Waterfall (250 meters), Payakumbuh waterfall in Harau canyon (150 meters), and Curug Citambur Waterfall (100 meters). Along the route to Bedegung, you will be greeted by the green paddy field that still natural. You have to travel a distance for about 56 km to the border Batu Raja, Muara Enim. Other way, you can use a private car and just need to take for 1 hour drive. Browse Takealot Specials on ESpecials. To reach to the main destination, we can reach by taking some walk.
Along the journey to the waterfall, you can sit at some huts for just relaxing the foot for a while and restoring the energy. There are numbers of giant rocks in here and there; You can take pictures on the rocks with waterfall flowing as the background.

Latest News
Lake Toba not only offers natural tourism, but also cultural tourism. One of the cultural attractions that can be visited is Huta Tinggi Village on Samosir Island, North Sumatra. This village offers tour packages with the life of the Batak people theme who live in the area. If you choose the tour package, visitors will participate in various local community activities, from milking buffalo, to enjoying the view of the lake on the hill. Playing Musical InstrumentsHuta Tinggi Village visitors will be greeted by the strains of traditional Batak music…
---
Bumiayu Temple Bumiayu temple is one of heritages from Hindu era. It located in coastal river of Lematang, administratively in Bumiayu village, Tanah Abang sub-district, Penukal Abab regency, Pematang Ilir. This temple is the only complex of temples in South Sumatra. Until today, there are less than 9 temples that been found in this area, and four of them have been restored, those are Temple 1, Temple 2, Temple 3 and Temple 8. This preservation has begun since 1990 till now. This temple complex covers an area of 75.56 ha,…
---
Compared to other areas in the vicinity, one of the attractions in the city of Palembang, South Sumatra has a higher contour, about 27 feet above sea level, and is touted as the highest position in the city. However, rather it is a privilege Siguntang Hill. Log into the region, people may think that this place is a garden complete with shady trees and benches that can be used to spend the day. But who would have thought if the Mount Siguntang is an important historic place, especially for Palembang.…
---
Mount Dempo is one of the natural attractions Lahat regency. The highest mountain in South Sumatra, this can be achieved directly from Palembang by private vehicle for about 6 hours, a distance of over 295 km. Can also use the public bus from Lahat to Pagar Alam (60 km), and from here followed by another bus travel a distance of 9 km up to the plantation and tea factory mountainside. You can stay in the mess that is available while enjoying the beautiful natural scenery around it. But if you…
---