Telaga Cinta (Love Lake) – Jayapura regency
---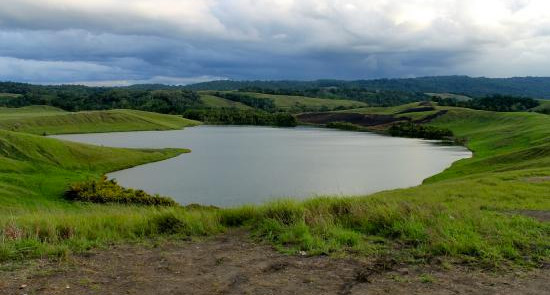 Jayapura regency is one of regencies in Papua, beside that Jayapura has also city tour of Jayapura city. In Ebungfau district, Jayapura regency, there is a lake with its unique form, many people call it Telaga Cinta or the Lake of Love, although local residents call them Lake Imfote, after the name of the site.
Frequented by visitors almost daily, especially on the weekends, Love Lake is can be accessed by land and water transportation. The land route by motorcycle or car can start from Jayapura city through Genyem district in Jayapura regency or from Arso district in Keerom regency.
The water route can be covered by boat or speedboat from Yahim port behind Sentani Airport to Kawi port in Putaly village, before climbing a hill or going by motorcycle or car along a highway already built there.
The road to Love Lake by land begins from Yoka village, leading to Puay village with a winding way going uphill and downhill. On the right is the blue expanse of Lake Sentani with sago trees on its banks; on the left is the dense forest of Abepura. Only the track leading to the lake is a natural path.
Around 5 kilometers away from Love Lake is another tourist attraction named the Jaipuri River, the only stream that channels Lake Sentani's water to the Tami River before emptying into the sea. Jaipuri also offers lodgings to tourists. It took about one-and-a-half hours from the river to arrive at Love Lake on a hot weekend, where visitors, mostly young motorcyclists, were already lining the edges of the lake and taking pictures with their cameras or selfies with their cell phones.
The beauty of Love Lake overwhelmed the heat of the day. There were no huts or structures around apart from a tall cross-shaped wooden frame, erected during the commemoration of Easter. Such crosses can be found along the road of Hansambe hamlet, the last settlement before reaching the barren hill near Imfote.
The Lake of Love's beauty is enhanced by the vastness of Lake Sentani and the height of Mount Cyclop, which serve as a water source for residents of Jayapura regency and city. Situated at a high altitude, it is visible from the air. Meanwhile, on the ground, the treeless area with strong winds and scorching sunlight forces tourists to use sun block or wear broad-brimmed hats.

Latest News
The Raja Ampat area, West Papua, in addition to its beautiful underwater panorama, the plains also have amazing charm. The karst hills at first glance look like cones, scattered in clear green waters. Deep blue water lagoons around it looks so wonderful. Tropical rainforests with endemic fauna of Raja Ampat such as the waigeo cuscus (Spilocuscus papuensis), the red bird of paradise (paradisaea rubra) and the bald bird of paradise (cicinnurus respublica) are also there. In addition to snorkeling, travelers can trekking to enjoy climbing spots on a cluster of…
---
The fertile land makes Indonesia rich in plantation products, especially upland plantations such as coffee. One of the highlands in Indonesia turns out to produce the best Arabica coffee, low in acid and caffeine. Some coffee lovers and observers say arabica coffee from the highlands of Papua is one of the best coffees Indonesia has. Arabica coffee grown in the peak area of Jayawijaya mountains has acid levels that close to zero, and low caffeine. Because the higher the place, the better arabica coffee will be. Arabica coffee is grown…
---
For those who want to spend a vacation in Merauke Regency, they indeed need to find information regarding the most recommended tourist sites in that region. As for the reference, there is the famous Kapsul Waktu Monument in Kelapa Lima Village. The location is right on the city square, so it is quite accessible for everyone. Well, aside from the easy accessibility, the monument becomes famous due to other reasons, though. For instance, it is related to the name, which means the monument of the time capsule. Not to mention…
---
Known as the town at the east-most end of Indonesia. Merauke is the first town in Indonesia Archipelago that catches the first rays of the rising tropical sun. Officially, Merauke as the capital city of Papua province, Indonesia. Merauke as one of the goals in Papua must be visited and enjoyed the beauty of nature. Found on February 12, 1902 by a Dutch citizen who tried to live among the indigenous population of Marind Anim and Sohores. The name Merauke itself is said to originate from an anecdote among Dutch settlers and indigenous. At…
---