Hotels In Papua
---
The Baliem Valley Resort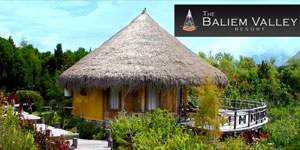 Located at 1900 meters above sea level, in the Central Highlands of Papua, part of New Guinea Island in the most east part of Indonesian Archipelago. This 3-star resort resides on 1,100 hectares near the tribal village of Desa Sekan, is enriched with magnificent views of the forest and surrounded by beautiful untouched nature. Enjoy trekking through the orchid garden, alpine rainforests and visit the remote Dani villages. Sekan Village, Wawelagama District (around 20 km by road from Wamena Airport).
Jayawijaya, Papua 98972
Indonesia
Phone: +62 812 48023489
Web: baliem-valley-resort.com
Grand ABE Hotel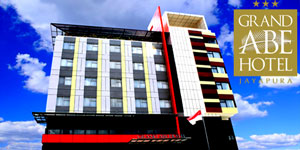 A 3-star hotel located on the main road of Abepura with access to the main road which makes this hotel so strategically with location close to the central office / government center. GRAND ABE Hotel is just 45 minutes from Sentani - Jayapura airport. GRAND ABE Hotel with the concept of "The Best Business Hotel in Town" is equipped with the best business facilities, among others: Coffee shop, 24 hour room service, 600 Room Ball Room, Adequate Meeting Room, Laundry & Dry Cleaning, Business Center, spacious parking facilities, and other service facilities.
Jl. Raya Abepura - Kotaraja
Jayapura, Papua 99351
Indonesia
Phone: +62 967 585123
Web: grandabehotel.com
Swiss-Belhotel Papua, Jayapura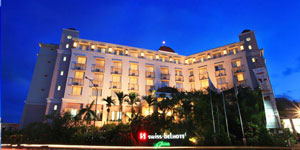 45 minutes from Sentani Airport and located in the center of the Jayapura's thriving business and commercial districts, we are a popular choice amongst travelers to the region of Papua. Come stay with us and enjoy the dazzling views of the city, and the gorgeous Jotefa Bay. As the first four-star international hotel in Jayapura, we are proud to set the standard for luxurious living. Choose from 96 plush guestrooms of different sizes: surely one will suit your needs. We boast a full range of amenities for the comfort and well being of our guests.
Pusat Bisnis Jayapura, Jalan Pasifik Permai
Jayapura, Papua 99351
Indonesia
Phone: +62 967 551888
Web: swiss-belhotel.com
Aston Jayapura Hotel & Convention Center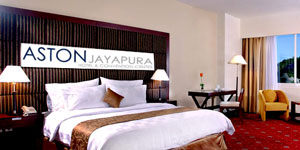 A perfect venue for business meetings and group functions. Aston Jayapura Hotel & Convention Center boasts as the tallest building in the city, four-star hotel that combines exceptional service with attention to details. Our hotel offers a true experience of modernity and style. The hotel is characterized by attentive yet unobtrusive service and and vast range of facilities, including 8 impressive function venues with state-of-the-art facilities that cater various types of meetings and events with capacity of up to 500 people.
Jl. Percetakan Negara No 50 - 58
Jayapura, Papua 99111
Indonesia
Phone: +62 967 537700
Web: astonhotelsinternational.com

Latest News
The Raja Ampat area, West Papua, in addition to its beautiful underwater panorama, the plains also have amazing charm. The karst hills at first glance look like cones, scattered in clear green waters. Deep blue water lagoons around it looks so wonderful. Tropical rainforests with endemic fauna of Raja Ampat such as the waigeo cuscus (Spilocuscus papuensis), the red bird of paradise (paradisaea rubra) and the bald bird of paradise (cicinnurus respublica) are also there. In addition to snorkeling, travelers can trekking to enjoy climbing spots on a cluster of…
---
The fertile land makes Indonesia rich in plantation products, especially upland plantations such as coffee. One of the highlands in Indonesia turns out to produce the best Arabica coffee, low in acid and caffeine. Some coffee lovers and observers say arabica coffee from the highlands of Papua is one of the best coffees Indonesia has. Arabica coffee grown in the peak area of Jayawijaya mountains has acid levels that close to zero, and low caffeine. Because the higher the place, the better arabica coffee will be. Arabica coffee is grown…
---
For those who want to spend a vacation in Merauke Regency, they indeed need to find information regarding the most recommended tourist sites in that region. As for the reference, there is the famous Kapsul Waktu Monument in Kelapa Lima Village. The location is right on the city square, so it is quite accessible for everyone. Well, aside from the easy accessibility, the monument becomes famous due to other reasons, though. For instance, it is related to the name, which means the monument of the time capsule. Not to mention…
---
Known as the town at the east-most end of Indonesia. Merauke is the first town in Indonesia Archipelago that catches the first rays of the rising tropical sun. Officially, Merauke as the capital city of Papua province, Indonesia. Merauke as one of the goals in Papua must be visited and enjoyed the beauty of nature. Found on February 12, 1902 by a Dutch citizen who tried to live among the indigenous population of Marind Anim and Sohores. The name Merauke itself is said to originate from an anecdote among Dutch settlers and indigenous. At…
---