Harlem Beach – Jayapura regency
---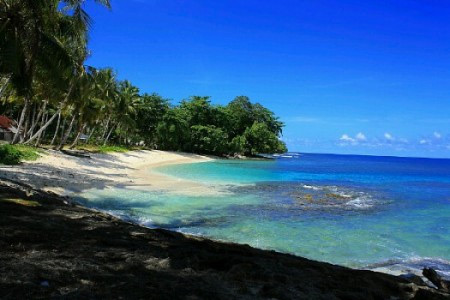 The eastern side of Indonesia is known well for its fascinating nautical highlight, especially the eastern most island of Indonesia. If you're visiting Jayapura, don't forget to visit this beach, Harlem Beach. Situated in Tablanusu village, Depepre district, Jayapura regency of Papua Province.
Many have said that this is the most beautiful beach in Jayapura. The location is a bit isolated and the beach has therefore not been visited by many. You will feel here you are having fun on your own private beach.
It's a white sandy beach with clear water and beautiful gradation. The waves are small as the beach is located in a bay, making it good place for swimming and snorkeling. You can see corals, fishes, and other sea animals while snorkeling. You don't have to go far out into the see these beauties as there are many who live close to the beach line.
Beside snorkeling and swimming you can also try to catch some fish, play in the sand or just enjoy the scenery and solitude. There's a water pool near the beach used for rinsing our body after playing at the beach. It has fresh natural clear water.
How to get there
Harlem Beach is only accessible by sea. You need to go to Depepre Pier first, 48 km west from Jayapura or 22 km from Sentani. Here you can get a boat to Harlem Beach which will take only 15 minutes. You can rent a boat (it would need to wait to get you back again too) for IDR 300,000 - 400,000 which can carry approximately up to 10 passengers.

Latest News
The Raja Ampat area, West Papua, in addition to its beautiful underwater panorama, the plains also have amazing charm. The karst hills at first glance look like cones, scattered in clear green waters. Deep blue water lagoons around it looks so wonderful. Tropical rainforests with endemic fauna of Raja Ampat such as the waigeo cuscus (Spilocuscus papuensis), the red bird of paradise (paradisaea rubra) and the bald bird of paradise (cicinnurus respublica) are also there. In addition to snorkeling, travelers can trekking to enjoy climbing spots on a cluster of…
---
The fertile land makes Indonesia rich in plantation products, especially upland plantations such as coffee. One of the highlands in Indonesia turns out to produce the best Arabica coffee, low in acid and caffeine. Some coffee lovers and observers say arabica coffee from the highlands of Papua is one of the best coffees Indonesia has. Arabica coffee grown in the peak area of Jayawijaya mountains has acid levels that close to zero, and low caffeine. Because the higher the place, the better arabica coffee will be. Arabica coffee is grown…
---
For those who want to spend a vacation in Merauke Regency, they indeed need to find information regarding the most recommended tourist sites in that region. As for the reference, there is the famous Kapsul Waktu Monument in Kelapa Lima Village. The location is right on the city square, so it is quite accessible for everyone. Well, aside from the easy accessibility, the monument becomes famous due to other reasons, though. For instance, it is related to the name, which means the monument of the time capsule. Not to mention…
---
Known as the town at the east-most end of Indonesia. Merauke is the first town in Indonesia Archipelago that catches the first rays of the rising tropical sun. Officially, Merauke as the capital city of Papua province, Indonesia. Merauke as one of the goals in Papua must be visited and enjoyed the beauty of nature. Found on February 12, 1902 by a Dutch citizen who tried to live among the indigenous population of Marind Anim and Sohores. The name Merauke itself is said to originate from an anecdote among Dutch settlers and indigenous. At…
---