Nabire
---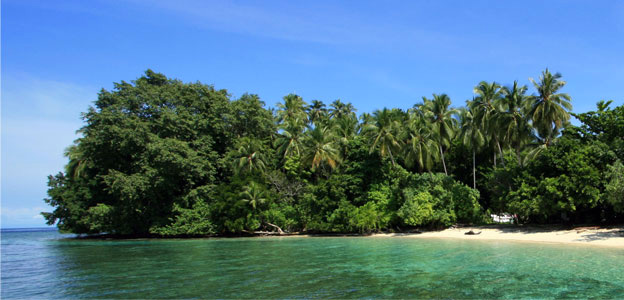 Nabire is lies on the Cendrawasih Bay area of Papua Province and Pacific Ocean, which is above three slab of earth resulting prone to earthquake. Geographically Nabire bordered as follow; to the North is Yapen Islands regency, to the East is Waropen and Paniai regency, to the South is Dogiyai regency, and to the West is Teluk Wondama and Kaimana regency (West Papua).
Nabire is one of regencies in Papua Province with Nabire City as the capital. Nabire is known as the second-biggest producer of coffee after Jayawijaya regency. It is also known as City of Orange. As many areas in Papua, Nabire has also great potential of sea riched. This fact is supported by Cendrawasih Bay National Sea-Park in Nabire.
There are many versions of the history of Nabire. One of them is Hegure tribe's version stated that Nabire came from Inambre which means the coast that overgrown by plants species of palm trees such as; broom fibers tree, enau forest tree, nibun tree and the other palm trees. Due to the communication and connecting with the tribes entrants, over time was pronounced Inambre has changed Nabire. Also from Yerisyam tribe's version stated that Nabire came from Navire which means abandoned area. The word "Navire" was pronounced when a peace party was held between Hegure and Yerisyam tribe. Then Navire has changed into Nabire. Another version of Yerisyam tribe stated that Nabire came from the word Na Wyere which means lost area. This version was related to a disease plague resulting many of the residents moved away and left the area. Then from time to time the word Na Wyere has been changed into Nabire.
The tourism in Nabire still limited because the facilities and potential tourist attraction still managed in a professional manner. Nabire potential tourist attraction which has fairly good respect in marine tourism, nature and cultural tourism.
How to get there
To reach Nabire town, air travel will end at Nabire airport. An airport with the airport code NBX is a class II airports aviation pioneers from and to some areas of Papua as Biak, Jayapura, Timika and others. Nabire airport is located in Jalan Singamangaraja, Nabire, Papua province, Indonesia.
The distance between Nabire airport with the city center about two kilometers. To go from Nabire airport to the city center Nabire or otherwise be able to use public transportation which is called by the name of the taxi by the locals. If using taxis charged around IDR 15,000 one way. However, a motorcycle taxi fares also customize a deal with the driver and the distance, so if using public transportation.

Latest News
The Raja Ampat area, West Papua, in addition to its beautiful underwater panorama, the plains also have amazing charm. The karst hills at first glance look like cones, scattered in clear green waters. Deep blue water lagoons around it looks so wonderful. Tropical rainforests with endemic fauna of Raja Ampat such as the waigeo cuscus (Spilocuscus papuensis), the red bird of paradise (paradisaea rubra) and the bald bird of paradise (cicinnurus respublica) are also there. In addition to snorkeling, travelers can trekking to enjoy climbing spots on a cluster of…
---
The fertile land makes Indonesia rich in plantation products, especially upland plantations such as coffee. One of the highlands in Indonesia turns out to produce the best Arabica coffee, low in acid and caffeine. Some coffee lovers and observers say arabica coffee from the highlands of Papua is one of the best coffees Indonesia has. Arabica coffee grown in the peak area of Jayawijaya mountains has acid levels that close to zero, and low caffeine. Because the higher the place, the better arabica coffee will be. Arabica coffee is grown…
---
For those who want to spend a vacation in Merauke Regency, they indeed need to find information regarding the most recommended tourist sites in that region. As for the reference, there is the famous Kapsul Waktu Monument in Kelapa Lima Village. The location is right on the city square, so it is quite accessible for everyone. Well, aside from the easy accessibility, the monument becomes famous due to other reasons, though. For instance, it is related to the name, which means the monument of the time capsule. Not to mention…
---
Known as the town at the east-most end of Indonesia. Merauke is the first town in Indonesia Archipelago that catches the first rays of the rising tropical sun. Officially, Merauke as the capital city of Papua province, Indonesia. Merauke as one of the goals in Papua must be visited and enjoyed the beauty of nature. Found on February 12, 1902 by a Dutch citizen who tried to live among the indigenous population of Marind Anim and Sohores. The name Merauke itself is said to originate from an anecdote among Dutch settlers and indigenous. At…
---