Biak
---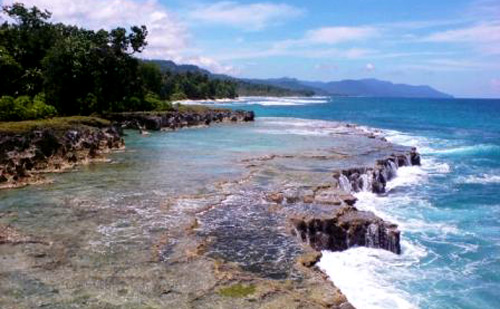 Biak, a town built on the rocky soil of an island of the same name on the rim of Cenderawasih Bay, is Irian Jaya's gateway. A big Indonesian naval base, it has an infrastructure that is better than in most other places in the province. Japanese caves are found near Ambroben.
There are some good beaches on Biak island, the most popular of which are Bosnik on the east coast, good for swimming and skin-diving, and Korem on the north coast, where one can watch young men dive for pearls. Supiori Island, just north of Biak, has a recreation forest and villages where visitors are welcome.
BIAK NUMFOR
Among the nine regencies in Papua, Biak Numfor is the only one that consists of islands. Geographically, it is located between 134° 47- 136° east longitude and 0° 55-30° south langitude. It owns 3 big islands; Biak, Supiori, and Biak Numfor.
Population
102.492 people spreading in 8 districts, 7 sub districts, and 153 villages inhabit Biak Numfor regency.
Weather
The temperature is generally hot. Light rains fall 189-399 mm per month between 22-29 days, which occurs a lot during the months of Januari to June whereas the dry season in between July to October.
Flora
There are numerous types of flora in this tropical area with its mystical tropical rain forest. The forest also has a variety trees and other commercials important species plus the lush vegetation of mangrove swamps. People grant their life by taking sago from the sago palm forest.
Fauna
The fauna is almost similar to Australian fauna such as the group of fowl like pigeon, cockatoo, nuri (a kind of parrot) and the reptile group such : crocodile, snake, turtle and monitor lizard.

Latest News
The Raja Ampat area, West Papua, in addition to its beautiful underwater panorama, the plains also have amazing charm. The karst hills at first glance look like cones, scattered in clear green waters. Deep blue water lagoons around it looks so wonderful. Tropical rainforests with endemic fauna of Raja Ampat such as the waigeo cuscus (Spilocuscus papuensis), the red bird of paradise (paradisaea rubra) and the bald bird of paradise (cicinnurus respublica) are also there. In addition to snorkeling, travelers can trekking to enjoy climbing spots on a cluster of…
---
The fertile land makes Indonesia rich in plantation products, especially upland plantations such as coffee. One of the highlands in Indonesia turns out to produce the best Arabica coffee, low in acid and caffeine. Some coffee lovers and observers say arabica coffee from the highlands of Papua is one of the best coffees Indonesia has. Arabica coffee grown in the peak area of Jayawijaya mountains has acid levels that close to zero, and low caffeine. Because the higher the place, the better arabica coffee will be. Arabica coffee is grown…
---
For those who want to spend a vacation in Merauke Regency, they indeed need to find information regarding the most recommended tourist sites in that region. As for the reference, there is the famous Kapsul Waktu Monument in Kelapa Lima Village. The location is right on the city square, so it is quite accessible for everyone. Well, aside from the easy accessibility, the monument becomes famous due to other reasons, though. For instance, it is related to the name, which means the monument of the time capsule. Not to mention…
---
Known as the town at the east-most end of Indonesia. Merauke is the first town in Indonesia Archipelago that catches the first rays of the rising tropical sun. Officially, Merauke as the capital city of Papua province, Indonesia. Merauke as one of the goals in Papua must be visited and enjoyed the beauty of nature. Found on February 12, 1902 by a Dutch citizen who tried to live among the indigenous population of Marind Anim and Sohores. The name Merauke itself is said to originate from an anecdote among Dutch settlers and indigenous. At…
---