Amai Beach in Depapre District
---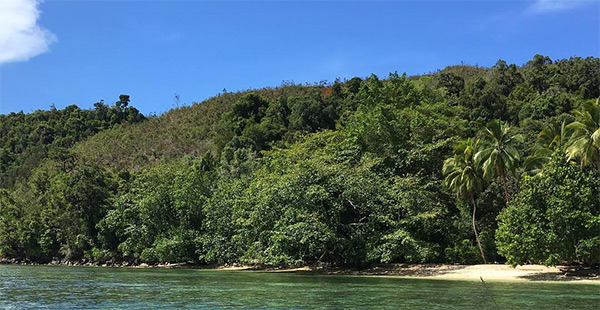 Many travelers visit nature attractions in order to find peace. In this case, they have an option called Amai Beach. Such stunning coast is located in Depapre District that takes some time from Jayapura City. It is famous for its serenity and pristine environment, so visitors can eradicate stresses there. Just because it is desolated, doesn't mean it is unattractive. In fact, visitors can enjoy different fun activities there. These include playing beach volley, relaxation, snorkeling, and swimming. It is even suitable for photography, so tourists must not forget to carry their camera.
The Nuance
Amai Beach consists of different features. For example, it is the water. The fact is that tourists can find an estuary near to the beach, where both salt and fresh water meets. Visitors often use the fresh water for bathing after swimming on the beach. What a unique place to enjoy a vacation. The next feature is a formation of coconut trees. They become an important feature of the beach in fact. It is because they create a comfortable nuance, on which people can relax under them. Another important feature is a gazebo. Visitors can rent it with an affordable price for relaxing.
Exploring Amai Beach
Amai Beach is considered impressive, as visitors can do almost anything there. It is as simple as enjoying sea nuance and feel the warm sunlight. The sensation is the Pacific Ocean is quite strong, as well. Due to its secluded location, the beach also becomes a favorite place for relaxation. That means it is suitable for those who live in big cities. Hectic lives often make people feel pressured and distressed. Thus, a vacation in Amai can lessen those problems. Despite the tiring and challenging trip, the views are worth it.
The sand is white and it comes with a soft texture. Due to this reason, beach walking is quite common among visitors. The sea water is quite refreshing, too. That means swimming can be a great option for those who want to explore the water. As an alternative, tourists can simply relax under coconut trees and drink fresh coconut water. With the views of beautiful seascape, no one would regret doing it. Another idea is to perform photography. Thanks to all beautiful nature objects in Amai Beach that worth photo shoots.
The next activity is to reach the estuary. As mentioned before, it connects both fresh and salt water. Not to mention is suitable for swimming. Even kids can play safely there. For families or groups, the best activity to do is to play volleyball. As no coral reefs, the beach becomes a comfortable spot to do such sport. In fact, no fee is involved to play it. What people need are only the ball and other equipment. That means they must have prepared those items beforehand. Once they get tired, they can simply rent a gazebo and relax there.
Nearby Attractions
McArthur Monument
Baliem Valley
Bosnik Beach
How to Get There
As mentioned before, the beach belongs to Depapre District. First, travelers need to head to Sentani Airport, which is located in Jayapura City. Next, they can use any local transportation service to Depapre and it takes about 2 hours. The distance between those two locations is 60 km, after all.
Where to Stay
Yasmin Hotel
Aston Jayapura Hotel
Swiss-Belhotel Jayapura

Latest News
The Raja Ampat area, West Papua, in addition to its beautiful underwater panorama, the plains also have amazing charm. The karst hills at first glance look like cones, scattered in clear green waters. Deep blue water lagoons around it looks so wonderful. Tropical rainforests with endemic fauna of Raja Ampat such as the waigeo cuscus (Spilocuscus papuensis), the red bird of paradise (paradisaea rubra) and the bald bird of paradise (cicinnurus respublica) are also there. In addition to snorkeling, travelers can trekking to enjoy climbing spots on a cluster of…
---
The fertile land makes Indonesia rich in plantation products, especially upland plantations such as coffee. One of the highlands in Indonesia turns out to produce the best Arabica coffee, low in acid and caffeine. Some coffee lovers and observers say arabica coffee from the highlands of Papua is one of the best coffees Indonesia has. Arabica coffee grown in the peak area of Jayawijaya mountains has acid levels that close to zero, and low caffeine. Because the higher the place, the better arabica coffee will be. Arabica coffee is grown…
---
For those who want to spend a vacation in Merauke Regency, they indeed need to find information regarding the most recommended tourist sites in that region. As for the reference, there is the famous Kapsul Waktu Monument in Kelapa Lima Village. The location is right on the city square, so it is quite accessible for everyone. Well, aside from the easy accessibility, the monument becomes famous due to other reasons, though. For instance, it is related to the name, which means the monument of the time capsule. Not to mention…
---
Known as the town at the east-most end of Indonesia. Merauke is the first town in Indonesia Archipelago that catches the first rays of the rising tropical sun. Officially, Merauke as the capital city of Papua province, Indonesia. Merauke as one of the goals in Papua must be visited and enjoyed the beauty of nature. Found on February 12, 1902 by a Dutch citizen who tried to live among the indigenous population of Marind Anim and Sohores. The name Merauke itself is said to originate from an anecdote among Dutch settlers and indigenous. At…
---