The Castle of Ants in Merauke Regency
---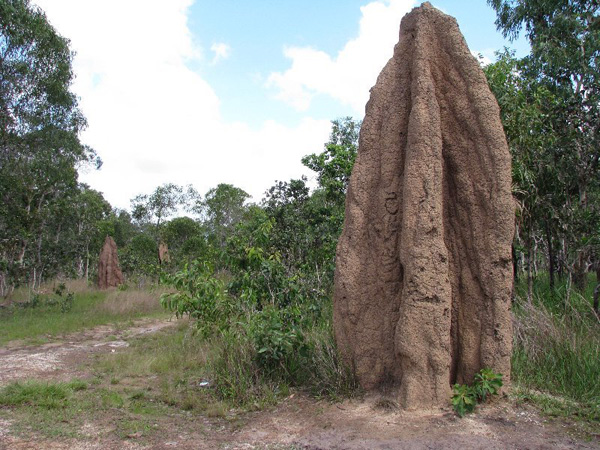 With lots of vacation destinations available, Papua Province becomes tourists' heaven. Here's the reference. The name is the castle of ants "Masamus", which is located in Merauke Regency. Actually, it is the home of lots of termites and becomes a tourist lure in such region. Due to its enormous size and uniqueness, tourists want to see it by their own eyes. No wonder, more people keep coming to Merauke, especially in Wasure National Park, where Masamus is located. The object was created naturally by the animals, so it is indeed exotic.
The Nuance
In terms of size, Masamus is indeed big and majestic. The height is about 5 meters and it has the diameter of 2 meters. When it comes to shape, it varies. One thing that tourists can be sure of it is quite tall! There are many of them and they are located in different areas. Despite the castles of ants are located in an open field, they can withstand harsh weather, including wind and rain. It is because the termites constructed their home perfectly. It is also prohibited to damage those objects, so tourists must not act carelessly when observing them.
Witnessing the Castle of Ants
Most visitors are interested in observing the castles of ants, especially to learn the species of termites called Macrotermes sp. The fact is that such species is different than those people find in a household. It is likely there are millions of them living in Masamus. They constructed it using numerous materials, including dry grasses, saliva, and soil. Due to its sturdiness, it can even withstand an earthquake and a person climbing on it. Those castles of ants also feature several holes, functioning as a temperature stabilizer and entrances.
Some people say the objects have similarities to stalagmites, as the shape has several curves. The color is brownish or reddish. Somehow, they appear beautiful and majestic. This explains why people take advantage of them as a photography object. It is even possible to get close to them and take selfies in front of it. As an alternative, they can observe some activities of termites when those animals are coming out of the nest. It is a rare occasion, so not all tourists have an opportunity to witness those petite creatures.
What's next? Once visitors explore and witness Masamus, they can visit nearby villages in Marauke Regency. At the time, they can see unique traditional houses, called Honai. Not to mention they have an opportunity to taste different types of local foods like Papeda and Manokwari Grilled Fish. Some villagers even may invite tourists to their house to enjoy dinner. As an alternative, they can simply look for eateries and buy foods there. In fact, the price is affordable.
Nearby Attractions
Payum Beach
Wasur National Park
Al-Aqsa Grand Mosque
How to Get There
For those coming from Jakarta or other provinces, the main destination is Merauke Regency. That means they need to fly to Mopah Airport first. Once they reach there, it is time to take a local transportation service to Wasur National Park. The trip takes about 2-3 hours, actually. Also, it is better to carry a camera.
Where to Stay
Swiss-Belhotel Merauke
Megaria Hotel
Flora Hotel
Nirmala Hotel

Latest News
The Raja Ampat area, West Papua, in addition to its beautiful underwater panorama, the plains also have amazing charm. The karst hills at first glance look like cones, scattered in clear green waters. Deep blue water lagoons around it looks so wonderful. Tropical rainforests with endemic fauna of Raja Ampat such as the waigeo cuscus (Spilocuscus papuensis), the red bird of paradise (paradisaea rubra) and the bald bird of paradise (cicinnurus respublica) are also there. In addition to snorkeling, travelers can trekking to enjoy climbing spots on a cluster of…
---
The fertile land makes Indonesia rich in plantation products, especially upland plantations such as coffee. One of the highlands in Indonesia turns out to produce the best Arabica coffee, low in acid and caffeine. Some coffee lovers and observers say arabica coffee from the highlands of Papua is one of the best coffees Indonesia has. Arabica coffee grown in the peak area of Jayawijaya mountains has acid levels that close to zero, and low caffeine. Because the higher the place, the better arabica coffee will be. Arabica coffee is grown…
---
For those who want to spend a vacation in Merauke Regency, they indeed need to find information regarding the most recommended tourist sites in that region. As for the reference, there is the famous Kapsul Waktu Monument in Kelapa Lima Village. The location is right on the city square, so it is quite accessible for everyone. Well, aside from the easy accessibility, the monument becomes famous due to other reasons, though. For instance, it is related to the name, which means the monument of the time capsule. Not to mention…
---
Known as the town at the east-most end of Indonesia. Merauke is the first town in Indonesia Archipelago that catches the first rays of the rising tropical sun. Officially, Merauke as the capital city of Papua province, Indonesia. Merauke as one of the goals in Papua must be visited and enjoyed the beauty of nature. Found on February 12, 1902 by a Dutch citizen who tried to live among the indigenous population of Marind Anim and Sohores. The name Merauke itself is said to originate from an anecdote among Dutch settlers and indigenous. At…
---