Wasur National Park in Merauke Regency, Papua Province
---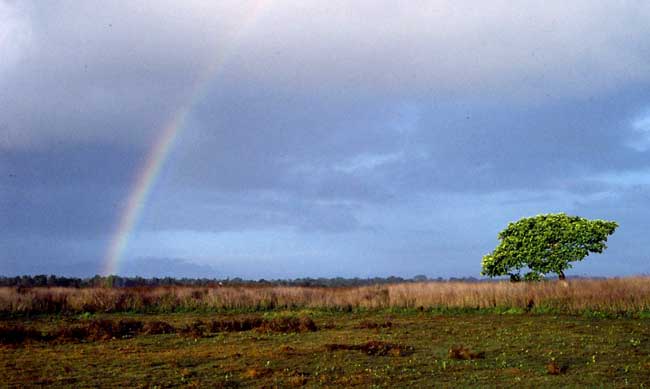 In Sota Sub-District of Merauke Regency, tourists would find a famous vacation spot called Wasur National Park. The locals call it Taman Nasional Wasur, actually. It, in fact, becomes the prime tourist allure there. The popularity is excellent! Even foreigners have acknowledged it and have the interest to revisit it during holidays. No wonder, some people call it the Serengeti Papua due to the unspoiled nature and numerous species of flora and fauna that live in it. As for tourist activities, visitors can simply watch animals and plants during the exploration. It is even allowed to hunt kangaroos and deer using a traditional weapon, especially arrows! Here is further discussion about the site.
The Nuance
In terms of nuance, Wasur National Park offers various ambiances. It is because the site has different types of landscapes, including swamps, forest, savanna, rivers, etc. Thus, tourists won't feel bored there. As for the feature, the most famous one is called Rumah Semut Musamus. Several giant houses of termites reside in this park. The size can even reach up to 5 meters! These indeed become a great object for photography. Aside from that, the park offers more allures to visitors! What are they?
Exploring Wasur National Park
The first impression once arriving at Wasur National Park is the vastness. It is said the size reaches up to 413 hectares! The majority of the landscape is a savanna, actually. Despite the fact, tourists can find other landscapes during the exploration. These include a sago forest, grassy landscape, bamboo forest, mangroves, swamps, and monsoon forest. While exploring the park, though, tourists should wear comfy footwear and hire a local guide.
Aside from exploration, more people are interested to visit Wasur National Park for its fauna. According to the locals, more than 300 species of birds live in this area. It is even said Wasur is the richest in Indonesia when it comes to such variety. The most famous ones perhaps are swamp ducks, cranes, and Junai. What about other animals? Well, the site has tens species of mammals like kangaroos and deer. These ones are abundant, so tourists are allowed to hunt them during the visit (with the permission of the keepers).
For information, Wasur National Park also has several rivers where lots of fishes live in. Snappers and Arowana are the most dominant ones. Moreover, visitors can enjoy fishing in this area, as long as they carry their fishing rod and other required equipment. Somehow, tourists can also catch some lobsters and crabs!
Nearby Attractions

Onggaya Beach
0 Km Monument
Patung Kristus Raja
How to Get There
For outsiders, it is recommended to take an airplane in order to reach Merauke Regency efficiently. From Jakarta City, tourists should head to Soekarno – Hatta International Airport and head to Mopah Airport directly. This flight usually takes about 6 hours and 45 minutes. From Mopah Airport, They should take Garuda Mopah Lama Street and head to Wasur National Park right away. The distance is 65.8 km, so this trip would take around 1 hour and 59 minutes.
Where to Stay


Latest News
The fertile land makes Indonesia rich in plantation products, especially upland plantations such as coffee. One of the highlands in Indonesia turns out to produce the best Arabica coffee, low in acid and caffeine. Some coffee lovers and observers say arabica coffee from the highlands of Papua is one of the best coffees Indonesia has. Arabica coffee grown in the peak area of Jayawijaya mountains has acid levels that close to zero, and low caffeine. Because the higher the place, the better arabica coffee will be. Arabica coffee is grown…
---
For those who want to spend a vacation in Merauke Regency, they indeed need to find information regarding the most recommended tourist sites in that region. As for the reference, there is the famous Kapsul Waktu Monument in Kelapa Lima Village. The location is right on the city square, so it is quite accessible for everyone. Well, aside from the easy accessibility, the monument becomes famous due to other reasons, though. For instance, it is related to the name, which means the monument of the time capsule. Not to mention…
---
Known as the town at the east-most end of Indonesia. Merauke is the first town in Indonesia Archipelago that catches the first rays of the rising tropical sun. Officially, Merauke as the capital city of Papua province, Indonesia. Merauke as one of the goals in Papua must be visited and enjoyed the beauty of nature. Found on February 12, 1902 by a Dutch citizen who tried to live among the indigenous population of Marind Anim and Sohores. The name Merauke itself is said to originate from an anecdote among Dutch settlers and indigenous. At…
---
Teluk Wondama Teluk Wondama or Wondama Bay Regency is one of regencies in West Papua provinse. The capital city is located in Rasiei and it was formed since 12 April 2003 as an expansion of Manokwari regency. This regency is bounded with Tahota distric, Manokwari regency and Cendrawasih bay in north; Yaur distric, Nabire regency and some parts in Kaimana regency in south; Kuri district, Idoor district and Bintuni Bay regency in west; and Umar bay district, Nabire regency and Cendrawasih bay in East. This regency is having very rich…
---