Habe Island in Merauke Regency, Papua Province
---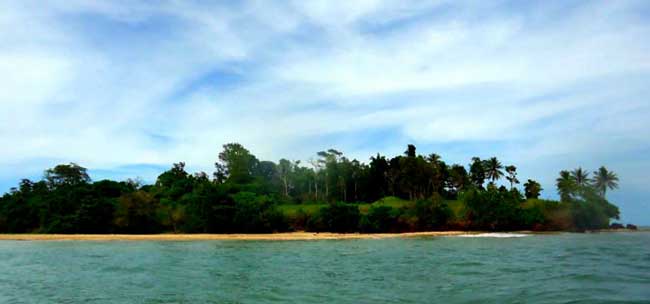 Perhaps tourists would think twice to visit Papua Province during the holidays. It is because they need to spend a long trip due to the distance. Despite the fact, the region would astonish all visitors with its amazing nature. One of the best places to explore is called Habe Island, which is located in Okaba Sub-District. To be exact, it resides in Wambi Village. In order to reach this serene and beautiful island, actually, tourists can take either a small plane or boat. The prime allure is none other than the stunning sea scenery! Tourists can do lots of things there including photography, sightseeing, learning history, and much more!
The Nuance
The first feature in Habe Island is definitely the blue clear seawater. Unlike other beaches in Papua Province with their muddy landscape, this one looks prettier. Even lots of fishes and other sea creatures can be seen clearly due to the excellent water clarity. Tourists may even see sea turtles and clams there. What is more? The most iconic feature perhaps is the giant Christ statue! This object lures those who want to conduct spiritual tourism, in fact. Thanks to the local government. They would provide a helipad to this island for better accessibility! Several lodges are also available to rent!
Exploring Habe Island
Once arriving at Habe Island, tourists can start exploring the site. Nature lovers would feel satisfied during the visit, for sure. It is because they are able to see beautiful tall highland trees and plants. These include lilies, mimosa, reeds, pandan duri, and many more. What is more? The island has a reddish landscape! Not to mention it features a beautiful shoreline with several mangroves on it.
Even though Habe Island looks like a secluded area, it has come with an excellent management and safety post. Thus, visitors can enjoy recreation in a safe manner, especially during the exploration. Aside from the beautiful landscape and nature, the island is also known for its Christ Statue. The size is big and the design is amusing. Tourists usually take photos in front of it or take photos of it from afar. Therefore, it is recommended to carry a camera during the visit.
Another thing that tourists can enjoy in Habe Island is related to the history. Tourists can ask the keepers or local people regarding the history of the site. It is said the island was once located in Kondo, but it moved to another area over time. Another story said that Habe was once connected to the main island of Papua Province. Due to a big disaster, it was separated. Well, everyone can get further information about these stories later by asking the locals.
Nearby Attractions

How to Get There
From Jakarta City, tourists should head to Merauke City by airplane first. A flight from Soekarno – Hatta International Airport to Mopah Airport may take around 6 hours and 45 minutes, actually. From Mopah, they can choose either to take a small plane or boat to reach Habe Island. For example, by a small plane called Twinoter, they can reach Okaba Sub-District for about 20 minutes. As an alternative, they can take a speedboat and pass through the Arafura Sea in order to reach the island. The voyage would take around 3 hours.

Latest News
The fertile land makes Indonesia rich in plantation products, especially upland plantations such as coffee. One of the highlands in Indonesia turns out to produce the best Arabica coffee, low in acid and caffeine. Some coffee lovers and observers say arabica coffee from the highlands of Papua is one of the best coffees Indonesia has. Arabica coffee grown in the peak area of Jayawijaya mountains has acid levels that close to zero, and low caffeine. Because the higher the place, the better arabica coffee will be. Arabica coffee is grown…
---
For those who want to spend a vacation in Merauke Regency, they indeed need to find information regarding the most recommended tourist sites in that region. As for the reference, there is the famous Kapsul Waktu Monument in Kelapa Lima Village. The location is right on the city square, so it is quite accessible for everyone. Well, aside from the easy accessibility, the monument becomes famous due to other reasons, though. For instance, it is related to the name, which means the monument of the time capsule. Not to mention…
---
Known as the town at the east-most end of Indonesia. Merauke is the first town in Indonesia Archipelago that catches the first rays of the rising tropical sun. Officially, Merauke as the capital city of Papua province, Indonesia. Merauke as one of the goals in Papua must be visited and enjoyed the beauty of nature. Found on February 12, 1902 by a Dutch citizen who tried to live among the indigenous population of Marind Anim and Sohores. The name Merauke itself is said to originate from an anecdote among Dutch settlers and indigenous. At…
---
Teluk Wondama Teluk Wondama or Wondama Bay Regency is one of regencies in West Papua provinse. The capital city is located in Rasiei and it was formed since 12 April 2003 as an expansion of Manokwari regency. This regency is bounded with Tahota distric, Manokwari regency and Cendrawasih bay in north; Yaur distric, Nabire regency and some parts in Kaimana regency in south; Kuri district, Idoor district and Bintuni Bay regency in west; and Umar bay district, Nabire regency and Cendrawasih bay in East. This regency is having very rich…
---