Delicious Papeda and Colo Dabu-Dabu of Merauke Regency in Papua Province
---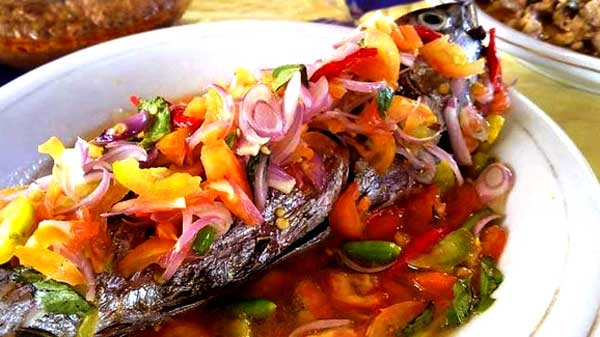 Regardless of the destination, tourists have a common interest in visiting a region. It is none other than to try traditional foods! In Merauke Regency, for example, visitors would find some unique and delicious foods including Colo Dabu-Dabu and Papeda. Aside from the cheap price, these foods can be found easily in Merauke Regency and other regions in Papua Province. As for Papeda, it has become the locals' staple food for generations. As for Colo Dabu-Dabu, it features fishes as the main ingredient and the taste is spicy. Moreover, these foods become a perfect pair to be eaten regardless of the time (especially at lunch).
Where to Get the Foods
Before enjoying the foods, tourists need to gather information regarding the places where to get them. The simplest method is to make an order from the hotel they are staying at. This is a comfortable method, but it also costs more. As an alternative, tourists must search available local eateries and get the foods there. The first benefit is that the price is cheaper. Next, it gives a better nuance to tourists, as they can enjoy the foods along with the locals. The atmosphere is friendly, too!
More about Papeda and Colo Dabu-Dabu
As mentioned before, Papeda is the local staple food. No wonder, tourists won't get troubles in getting one during the visit. Not to mention lots of local eateries provide this food, featuring various prices and side dishes. Well, it would cost some money to try them all, though. Later, after enjoying the food, they should consider visiting local villages and watch the making process directly. It is said the main ingredient is sago, cultivated from nearby sago trees. The locals would extract the starch and turn it into sago flour before cooking it.
The good thing is that Papeda is quite versatile and combinable with various side dishes. The most common ones are yellow broth, anuve habre, tagas-tagas stir fry, and Colo Dabu-Dabu. It is not recommended to eat Papeda plainly, though, due to the flavorless sensation. As for the price, it varies depending on where tourists get the food. Another factor that affects the price is definitely the choice of side dishes.
The next recommended traditional food to try is called Colo Dabu-Dabu. It is suitable for those who love fishes! Tourists would regret if they don't try this food when spending a vacation in Papua Province. This food's main ingredient is Baronang or Kue fish. As for the taste, it is both spicy and mouthwatering! For the information, the locals would grill the fishes first before pouring the Dabu-Dabu (spicy seasoning/dressing).
Nearby Attractions

Wasur National Park
Kapsul Waktu Monument
Taman Makam Pahlawan Trikora
Gor Head Sai
Taman Mandala
How to Get There
It is true that tourists must visit Merauke Regency in order to enjoy those foods with a more comfortable nuance. However, those who come from outside Papua Island should take an airplane in order to reach Merauke. The purpose is indeed to get a more comfortable and faster trip. It is indeed a better choice than riding a ferry or boat, which would take longer and uncomfortable. As for the example, a flight from Soekarno – Hatta International Airport at Jakarta City to Merauke may take around 6 hours and 45 minutes. Later, once arriving at Merauke, tourists can simply visit nearby eateries and try those foods directly.
Where to Stay

Marind Hotel
Chosen Inn
Asmat Hotel
Megaria Hotel
Akat Hotel
Itese Hotel
Swiss Belhotel