Marind Tribe of Merauke Regency, Papua Province
---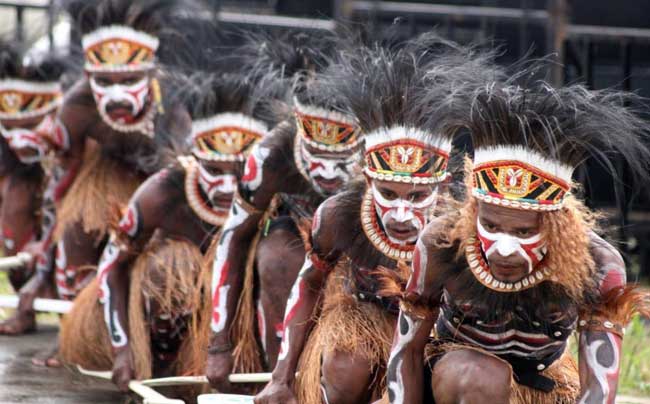 Merauke Regency is one of the most significant regions in Papua Province, especially when it is related to tourism. Usually, visitors or tourists would explore all parts of this beautiful region and visit natural attractions. Some of them are also interested in local history, in fact. Is that all? Well, Merauke is also known for another allure, which is the presence of a local tribe called Marind! That means tourists can meet these people directly, watch some unique traditions, and learn local cultures. For the information, this tribe usually lives in the south part of Digul River, west part of Maro River, and east part of Yos Sudarso Island. Have no worries. They are friendly and quite approachable!
The Nuance
Well, tourists would be astonished once they arrive at Marind Tribe's settlements. It is because these people live in a traditional house and wear unique clothes. Moreover, male villagers often wear stunning headgear. As for the women, they wear a stunning cap or nothing at all. Both of the males and females wear straw pants, though. They also live in a traditional house, which is made of natural materials like straws and woods.
Exploring Marind Tribe
The first thing that tourists can enjoy while meeting with Marind Tribe is definitely related to the local traditions and performances. In this case, the best thing to enjoy is the musical performances done by adult males and females. Usually, this is done at an open field and attended by nearby villagers and some tourists. Aside from featuring beautiful dance moves and accompaniment, the performance features unique musical instruments called Tifa. The function is similar to a drum and it has a long shape. Not to mention this instrument has beautiful carvings on it.
After enjoying traditional performances and take photos with villagers, tourists can do more things when meeting with Marind Tribe. For example, they should gather information regarding cultures. In this case, for foreigners and outsiders, they may need the help of a local guide who can help them to talk to villagers. It is said Marind Tribe used to be quite aggressive and often killed others for the skulls! Their local belief is that the skulls have a sacred and mystical power, especially used when naming a new-born baby.
Have no worries. This tribe has stopped that scary culture. Still, tourists can learn history by talking to them further later. The next interesting thing to do in Marind Tribe's settlement is to join the locals in a special hunting event. At the time, male villagers would gather and head to the forests for hunting wild boars. The good thing is that tourists are allowed to join this activity, as long as they follow the instructions.
Nearby Attractions

Kapsul Waktu Monument
Wasur National Park
Taman Makam Pahlawan Trikora
Taman Mandala
Gor Head Sai
How to Get There
It is true that tourists must visit Merauke Regency in order to meet Marind Tribe directly. For those who come from Jakarta City, however, they must take an airplane service in order to get to the destination more comfortably. For the information, a flight from Soekarno – Hatta International Airport to Mopah Airport would take around 6 hours and 45 minutes.
After arriving at Merauke, tourists can use a land transportation service and head to nearby villages where the tribe lives. As mentioned before, these people usually live in the south part of Digul River. Some of them also live in the west part of Maro River. In this case, for a more efficient trip, tourists should hire a local guide who can show the exact location and help tourists regarding communication with the tribe later.
Where to Stay

Chosen Inn
Marind Hotel
Asmat Hotel
Megaria Hotel
Swiss Belhotel
Akat Hotel
Itese Hotel

Latest News
The fertile land makes Indonesia rich in plantation products, especially upland plantations such as coffee. One of the highlands in Indonesia turns out to produce the best Arabica coffee, low in acid and caffeine. Some coffee lovers and observers say arabica coffee from the highlands of Papua is one of the best coffees Indonesia has. Arabica coffee grown in the peak area of Jayawijaya mountains has acid levels that close to zero, and low caffeine. Because the higher the place, the better arabica coffee will be. Arabica coffee is grown…
---
For those who want to spend a vacation in Merauke Regency, they indeed need to find information regarding the most recommended tourist sites in that region. As for the reference, there is the famous Kapsul Waktu Monument in Kelapa Lima Village. The location is right on the city square, so it is quite accessible for everyone. Well, aside from the easy accessibility, the monument becomes famous due to other reasons, though. For instance, it is related to the name, which means the monument of the time capsule. Not to mention…
---
Known as the town at the east-most end of Indonesia. Merauke is the first town in Indonesia Archipelago that catches the first rays of the rising tropical sun. Officially, Merauke as the capital city of Papua province, Indonesia. Merauke as one of the goals in Papua must be visited and enjoyed the beauty of nature. Found on February 12, 1902 by a Dutch citizen who tried to live among the indigenous population of Marind Anim and Sohores. The name Merauke itself is said to originate from an anecdote among Dutch settlers and indigenous. At…
---
Teluk Wondama Teluk Wondama or Wondama Bay Regency is one of regencies in West Papua provinse. The capital city is located in Rasiei and it was formed since 12 April 2003 as an expansion of Manokwari regency. This regency is bounded with Tahota distric, Manokwari regency and Cendrawasih bay in north; Yaur distric, Nabire regency and some parts in Kaimana regency in south; Kuri district, Idoor district and Bintuni Bay regency in west; and Umar bay district, Nabire regency and Cendrawasih bay in East. This regency is having very rich…
---