Payum Beach in Merauke Regency, Papua Province
---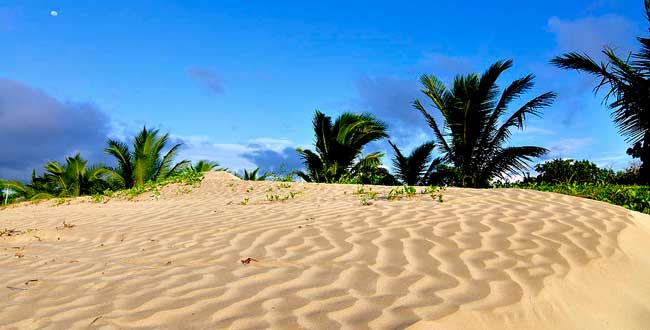 What can tourists do when visiting Merauke Regency? This question is common, especially among those who never visit the region. In a nutshell, Merauke is known for the lush nature. Several exotic beaches can also be found there, including the one called Payum Beach. This one is located in Samkai Village, actually. The location is near to Masamus Campus and it offers a different nuance to visitors. Some people may say that Payum has a similar characteristic to Lampu Satu Beach, though. However, this one doesn't have a lighthouse. Instead, the beach offers a great view of the sea!
The Nuance
As mentioned before, the nuance is similar to that of Lampu Satu Beach. So, what makes it different? Payum Beach is known for its sand dunes and brownish shoreline. At a glance, it looks like a wasteland! Moreover, trees and plants are scarce there. Tourists can only find some abandoned wooden benches on the shoreline. Some dry trees can also be seen there. What is more? The prime allure perhaps is the vastness. That means visitors can explore the site to their heart's content and enjoy some beach activities like beach soccer and flying kites.
Exploring Payum Beach
The most recommended thing to do in Payum Beach is an exploration or beach walking. Tourists can take advantage of the vastness and conduct an exploration thoroughly. This must be done either in the morning or afternoon, though. Otherwise, the heat of the sun at noon would ruin the fun. During beach walking, tourists can also reach a special spot where many sand dunes reside. These objects are good enough to be a background for photography, so don't forget to take some photos later.
The serenity becomes Payum Beach's next allure. The nuance feels plain due to the absence of green trees or plants. However, it creates a unique atmosphere, which is suitable for lessening or getting away from routines. The exotic brownish shoreline also soothes visitors! It even looks more attractive in the afternoon, while the sun is setting. During the sunset, the ambiance feels dramatic and it is suitable to create a good moment with a lover. The presence of abandoned wooden benches makes it more romantic, as well.
What is more? Located near to Payum Beach, tourists would find a local settlement. The majority of villagers work as a fisherman and they are often seen on the beach. Thus, tourists should approach them in order to watch the fishing procedure. These people look for more than fishes, in fact. They also hunt small shrimps to make a shrimp paste, later.
Nearby Attractions

Pintu Air Masamus
Patung Kristus Raja
Onggaya Beach
How to Get There
The best way to get to Merauke Regency is by airplane. From Jakarta City, for example, tourists can take an airplane at Soekarno – Hatta International Airport and head to Merauke City directly. This flight may take around 6 hours and 45 minutes or less. Once arriving at Mopah Airport, they can take a local transportation service and head to Payum Beach at Samkai Village. The distance is 4.3 km, so the trip would only take around 10 minutes. As for the best route, it is Kamizaun Street.
Where to Stay