Okaba Beach in Merauke Regency, Papua Province
---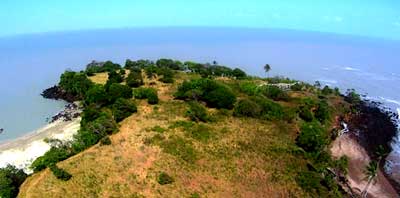 Merauke Regency is located in Papua Province and is considered difficult to reach, especially for foreigners and those who live outside Papua Island. The good thing is that the region has lots of interesting spots that tourists can't find in other places. For instance, there is a secluded beach called Okaba. As the name suggests, it is located in Okaba Sub-District. Tourists can get there by using either an airplane or riverboats, actually. Once they arrive at the local settlement, it only takes several minutes of walking. In fact, local villagers would gladly help tourists regarding the direction and route later.
The Nuance
So, what is it about Okaba Beach? Unlike beaches in Bali Province and Lombok Island, this one doesn't feature an exotic shoreline. Instead, tourists would see a tall sea border that is meant to prevent big waves from reaching nearby houses. It is true that many locals have built houses and buildings in that area, including churches. The location is considered secluded, though, so it offers a peaceful ambiance. Not to mention tourists also need to pass through lush coconut, palm, and other types of trees in order to reach the beach.
Exploring Okaba Beach
Before heading to Okaba Beach, tourists must pass through Okaba Sub-District and nearby village first. In this case, they can rest for a while at the local settlement and get some foods or drinks. In fact, the village offers a comfy and peaceful nuance for relaxation. At least, it helps tourists to replenish their stamina, which has been worn out due to the trip. Not to mention they can get a local guide service in this location. The purpose is to get better information regarding the beach and direction.
For the information, it only takes several minutes to get to the beach from that village. This can be done by walking, as well. Have no worries. This won't take much stamina at all. In fact, tourists would be able to see beautiful lush coconut and palm trees along the way to the beach. Some houses and grassy landscape are also seen in this route. Thus, it is recommended to conduct photography! No one would miss the chance to collect beautiful natural photos, after all.
Well, after arriving at Okaba Beach. The first impressive feature to notice is none other than "Talud" or sea border. This has a length of about 169 meters and a width of about 7.2 meters. As for the length, it is about 2 meters. The prime function is definitely to avoid sea abrasion and big waves from affecting nearby buildings. As for tourists, they can take advantage of the sea border as an object for photography!
Nearby Attractions

Iwal Village
Gelib Village
Habe Island
How to Get There
From Jakarta City or other regions outside Papua Island, tourists must take advantage of the best transportation service, which is an airplane, and head to Merauke Regency directly. This way, they can get there more comfortably and faster. For the information, a flight from Soekarno – Hatta International Airport at Jakarta to Merauke would take around 6 hours and 45 minutes. It can be more during bad weather, though.
Once tourists arrive at Mopah Airport in Merauke Regency, they can take a land transportation service and head to Okaba Beach right away. The destination is indeed Okaba Sub-District and this trip usually takes around 4 hours. The route is both long and challenging, though, so it would be quite uncomfortable for some people.