Kaliwanggo River in Merauke Regency, Papua Province
---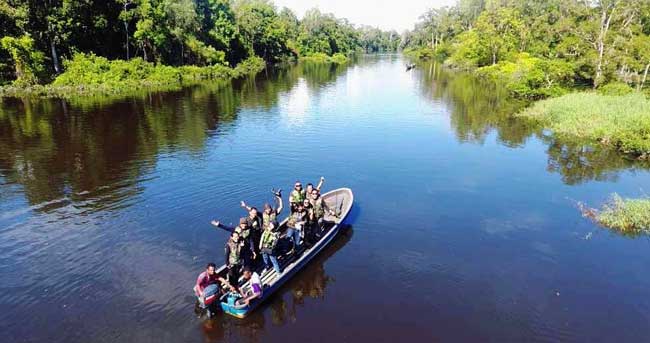 In Merauke Regency, tourists would find a majestic river called Kaliwanggo, which also becomes a new vacation spot these days. Even though the location is a little bit secluded, the river is worth to visit and explore. The location is in Sota Sub-District and it takes some time if tourists come from Mopah Airport. Despite the long trip, the reward is satisfying. Tourists can simply enjoy an adventure along the river and do fun things like fishing, meeting the locals, photography, and boat riding. Here is the fact. The river is located in the middle of the jungle, so it is suitable for exploration.
The Nuance
In order to get the best experience, tourists should ride a boat when exploring Kaliwanggo River. During the exploration, they may see a splendid panorama. The river has weak streams, so it is quite safe for boat riding. Also, it is surrounded by lush trees with their big roots. It is safe to say that the river is flanked by swamps! It is because many trees also sprout out from the water and look similar to that of Amazon. This pristine nuance is quite satisfying!
Exploring Kaliwanggo River
It is said Kaliwanggo River connects to Papua Nugini. Not to mention the water level increases during the rainy season. According to villagers, some snakes and crocodiles are often seen sometimes. Have no worries. As long as tourists explore it with a local guide, they would be safe. Also, as mentioned before, it is recommended to explore the river by boat. The best time to explore it is during the hot season, though. The purpose is to avoid rains and a higher water level.
While boat riding, tourists can simply witness nearby panoramas. It is even allowed to take photos while riding the boat. A local guide would explain further information and history regarding the river, too, later. This person even tells some best spots for fishing. Thus, everyone should carry a fishing rod and baits during boat riding! Unlike regular rivers, this one becomes the home of famous Arowana! This valuable and rare fish is indeed hard to catch, so tourists must acquire much information about how to fish one later.
At nearby eateries, several fishing guides await tourists and offer their service. Their help is indeed valuable, so everyone must get one. As for the price, it is negotiable. It would be more expensive during the holidays, though. Aside from Arowana, other species of fishes also live in Kaliwanggo River. These include giant tilapia, gastor, giant barramundi, etc.
Nearby Attractions

Petatas Monument
0 Km Monument
Murdani Monument
How to Get There
The first destination is Merauke City at Papua Province and the best way to get there is by airplane. For those coming from Jakarta City, they should get an airplane at Soekarno – Hatta International Airport and head to Mopah Airport right away. This flight usually takes around 6 hours and 45 minutes. From Mopah, tourists should head to Sota Sub-District where Kaliwanggo River is located. The distance is 116 km and the best route to take is Garuda Mopah Lama Street. This trip may take around 2 hours and 41 minutes during regular traffic.