Rumah Rayap Musamus in Merauke Regency, Papua Province
---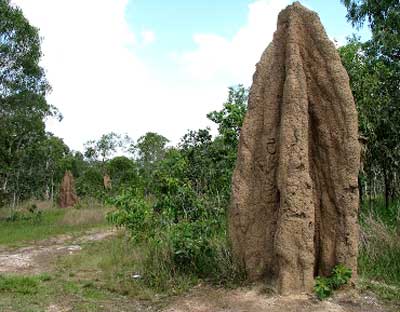 It is true that Wasur National Park has become the most famous vacation site in Merauke Regency. Why is that? This area offers lots of interesting features, including the one called Rumah Rayap Musamus. Speaking of the name, it means the houses of Macrotermes sp (a kind of insect). Musamus is made of soil, dry weeds, and the insects' saliva. The size is big and it indeed amazes all tourists. Actually, this kind of object can be found in other countries, too, including Australia. Fortunately, we don't have to go abroad in order to watch this directly.
The Nuance
In terms of size, Rumah Rayap Musamus can reach up to 5 meters in height and 2 meters in diameter. Still, the size varies. That means tourists would find more than one Musamus there. The condition is quite sturdy! In fact, it is able to withstand an adult human's height! As for the shape, it is conical. The object consists of several chambers where those insects live. Not to mention many ventilations are available. According to the locals, these insects are able to withstand extreme weathers and even forest fire when living inside.
Exploring Rumah Rayap Musamus
Tourists can see Rumah Rayap Musamus right away along the way to Rawa Biru Village. The exact location is at Wasur National Park. These earth mounds look unique and attract everyone's attention indeed. Thus, it is recommended to drop by and watch these directly. Is that all? Aside from watching Musamus, tourists can take photos of it during the visit. This can be done freely, so visitors don't need to spend money at all.
Aside from sightseeing and photography, tourists can also learn and explore Rumah Rayap Musamus. For the best experience, though, it is recommended to come with a local guide. This person would give information regarding how the insects form their house and show some parts of the object. Inside Musamus, some chambers and lanes are available. The function is to keep the interior warm and protect the occupants. In fact, these objects can withstand both fire and flood!
Here is the fact. The presence of Rumah Rayap Masamus doesn't cause harm to the environment. This explains the number increases each year. The colonies don't even disturb people! Instead, these become a new tourist allure in Merauke Regency. Plus, it becomes one of the best features in Wasur National Park, so all visitors should not miss the chance to explore it later.
Nearby Attractions

Lingkaran Brawijaya
Taman Makam Pahlawan Trikora
Galaxy Swimming Pool
Pintu Air Transito
Pasar Baru
How to Get There
The first destination is Merauke Regency and tourists can get there fast by airplane. From Jakarta City (Soekarno – Hatta International Airport), for example, the flight may take around 6 hours and 45 minutes. Next, after arriving at Mopah Airport, they only need to take a local transportation service and head to Wasur National Park in order to find Rumah Rayap Musamus. Have no worries. It is easy to find it. The help of a tour guide is not needed, in fact.
Where to Stay

Megaria Hotel
Swiss Belhotel
Asmat Hotel
Corelnn
Chosen Inn Hotel