Onggaya Beach in Merauke Regency, Papua Province
---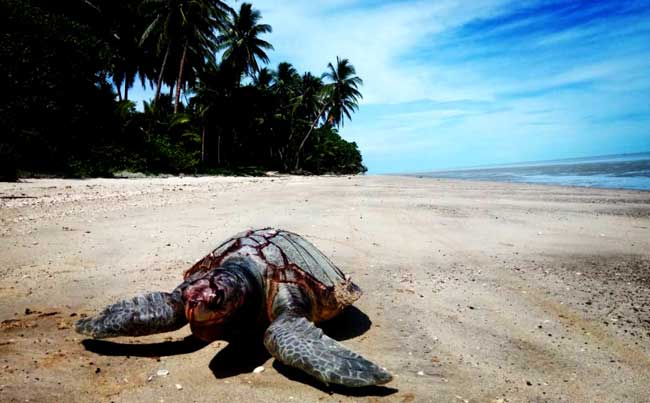 A pristine and stunning beach like Onggaya should be a prime vacation destination in Merauke Regency. The location is not quite far from the downtown, so everyone can reach it easily. To be exact, it resides in Onggaya Village of Noukenjerai Sub-District. Even though the local government hasn't managed it well, the beach remains well-known among the locals. Even outsiders are interested to visit it! The main charm is the serenity, but the beach offers other allures, too. For example, visitors can conduct beach walking and explore the lush trees. For those who are lucky enough, they can even see sea turtles on the shoreline! Well, here is more information about the beach.
The Nuance
The nuance combines both serenity and beauty. The first impression is none other than the vastness of the shoreline. Thus, Onggaya Beach is suitable for beach walking and other beach activities. As for the texture, it is not quite soft due to the presence of gravel or small stones. Next, the beach features lots of coconut trees that grow beautifully in the back. Tourists can use that spot to relax and enjoy the nuance, for sure. What is more? Several traditional lodges are available, but their condition isn't quite nice.
Exploring Onggaya Beach
People who live in Onggaya Village should be proud of the beach. These days, in fact, the local government has put more attention to the site. In the near future, tourists would find several honai or sophisticated beach lodges to enjoy a better vacation. As for tourist activities, the beach is suitable for beach walking. The shoreline is both vast and long, after all. One thing, the landscape is not quite soft, so everyone should wear comfy footwear during the exploration.
The next thing that tourists can enjoy in Onggaya Beach is to approach villagers. These people often gather on the shoreline to look for fishes and shrimps. After all, most local women work as a shrimp paste producer. That means tourists can buy some while visiting the village after exploring the beach later. As an alternative, they can approach these women on the beach and watch the hunting procedure. Somehow, this activity gives them an opportunity to conduct photography.
What is more? While exploring Onggaya Beach, tourists would be lucky if they are able to see a sea turtle. This exotic sea creature is rarely seen on the shoreline, looking for a good spot to lay eggs. For a better chance, tourists should gather information from villagers regarding the best time to see this animal. Don't forget to carry a camera, too!
Nearby Attractions

Pintu Air Masamus
Payum Beach
How to Get There
For those coming from Jakarta City or outside Papua Province, it is recommended to take an airplane to get there. Here is an example. A flight from Jakarta City (Soekarno – Hatta International Airport) would take around 6 hours and 45 minutes. Later, after reaching Mopah Airport, they should take Brawijaya Street and head to Onggaya Beach right away at Noukenjerai Sub-District. The distance is 31.7 km, so the trip would take around 1 hour and 12 minutes.
Where to Stay