Papua
---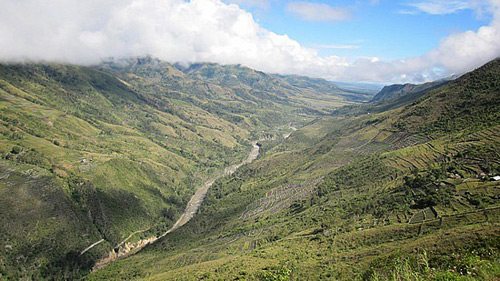 Wide Area
The wide area of Papua is 420,000 sq km/162,000 sq mi.
Population
Papua population based on 2000 est. is 2,220,900. It has some 240 different tribal peoples, each with its own language and culture. Indigenous Papuans in West Papua and Papua New Guinea speak some 15% of the world's known languages. West Papua together with the rest of the island of New Guinea, are the lungs of the Asia-Pacific, containing the last great surviving virgin rainforest after the Amazon.
Demographics
The population of Papua province and the neighboring West Irian Jaya, both of which are still under a united administration, totaled 2,646,489 in 2005. Since the early 1990s, Papua has had the highest population growth rate of all Indonesian provinces at over 3% annually. This is partly a result of high birth rates, but also from immigration from other regions in Indonesia.
According to the 2000 census, 78% of the Papuan population identified themselves as Christian with 54% being Protestant and 24% being Catholic. 21% of the population was Muslim and less than 1% were Buddhist or Hindu. There is also substantial practice of animism by Papuans, which is not recorded by the Indonesian government in line with the policy of Pancasila.
Ecology
A vital tropical rainforest with the tallest tropical trees and vast biodiversity, Papua's known forest fauna includes marsupials (including possums, wallabies, tree-kangaroos, cuscuses), other mammals (including the endangered Long-beaked Echidna), many bird species (including birds of paradise, cassowaries, parrots, cockatoos), the world's longest lizards (Papua monitor) and the world's largest butterflies. The island has an estimated 16,000 species of plant, 124 genera of which are endemic.
The extensive waterways and wetlands of Papua are also home to salt and freshwater crocodile, tree monitor, flying foxes, osprey, bats and other animals; while the equatorial glacier fields remain largely unexplored.
In February 2006, a team of scientists exploring the Foja Mountains, Sarmi, discovered numerous new species of birds, butterflies, amphibians, and plants, including a species of rhododendron, which may have the largest bloom of the genus. Ecological threats include logging-induced deforestation, forest conversion for plantation agriculture (especially oil palm), small holder agricultural conversion, the introduction and potential spread of non-native alien species such as the Crab-eating Macaque, which preys on and competes with indigenous species, the illegal species trade, and water pollution from oil and mining operations.
Regions
Indonesia structures regions contains of regencies and sub districts within those. Though names and areas of control of these regional structures can vary over time in accord with changing political and other requirements, in 2005 Papua province consisted of 19 regencies. The regencies are: Timika, Yapen - Waropen, Biak - Numfor, Nabire, Puncak Jaya, Paniai, Jayawijaya, Merauke, Sarmi, Keerom, Waropen, Tolikara, Yahukimo, Bintang Mountain, Boven Digoel, Mappi, Asmat, Supiori, and Jayapura. In addition to these, Jayapura city also has the status of regency.
Government
Papua province has governed by a directly elected governor (currently Barnabas Suebu) and a regional legislature, DPRP (Dewan Perwakilan Rakyat Papua). A unique government organization that only exists in Papua is the MRP (Majelis Rakyat Papua / Papuan People's Council) that was formed by the Indonesian Government in 2005 as a coalition of Papuan tribal chiefs, tasked with arbitration and speaking on behalf of Papuan tribal customs.

Latest News
The Raja Ampat area, West Papua, in addition to its beautiful underwater panorama, the plains also have amazing charm. The karst hills at first glance look like cones, scattered in clear green waters. Deep blue water lagoons around it looks so wonderful. Tropical rainforests with endemic fauna of Raja Ampat such as the waigeo cuscus (Spilocuscus papuensis), the red bird of paradise (paradisaea rubra) and the bald bird of paradise (cicinnurus respublica) are also there. In addition to snorkeling, travelers can trekking to enjoy climbing spots on a cluster of…
---
The fertile land makes Indonesia rich in plantation products, especially upland plantations such as coffee. One of the highlands in Indonesia turns out to produce the best Arabica coffee, low in acid and caffeine. Some coffee lovers and observers say arabica coffee from the highlands of Papua is one of the best coffees Indonesia has. Arabica coffee grown in the peak area of Jayawijaya mountains has acid levels that close to zero, and low caffeine. Because the higher the place, the better arabica coffee will be. Arabica coffee is grown…
---
For those who want to spend a vacation in Merauke Regency, they indeed need to find information regarding the most recommended tourist sites in that region. As for the reference, there is the famous Kapsul Waktu Monument in Kelapa Lima Village. The location is right on the city square, so it is quite accessible for everyone. Well, aside from the easy accessibility, the monument becomes famous due to other reasons, though. For instance, it is related to the name, which means the monument of the time capsule. Not to mention…
---
Known as the town at the east-most end of Indonesia. Merauke is the first town in Indonesia Archipelago that catches the first rays of the rising tropical sun. Officially, Merauke as the capital city of Papua province, Indonesia. Merauke as one of the goals in Papua must be visited and enjoyed the beauty of nature. Found on February 12, 1902 by a Dutch citizen who tried to live among the indigenous population of Marind Anim and Sohores. The name Merauke itself is said to originate from an anecdote among Dutch settlers and indigenous. At…
---