Tirto Husodo Hot Water
---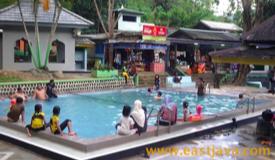 Tirta Husodo hot water bathing spot is one of natural tourist destinations in the category of special interest. Tirta Husodo or often called Banyu Anget (in Java language) has a natural beauty that is quite interesting. Hills and mountains that surround the swimming pool will add a cool, comfortable and momentarily removes fatigue that comes into our minds.
The bathing spot is located about 15 km to the north of downtown Pacitan and relatively easy to reach. The streets are relatively wide and flat so that cars and buses will easily pass through. Excess Tirto Husodo which is said to cure various diseases of the skin is warm here. The hot water contained calcium and sulfur with low intensities, that's why you do not feel any pungent odor of the water in Tirto Husodo. Bathing water here is very clean and clear and not sticky on the skin after we swim.
The following routes that you can take to get to Tirto Husodo hot water:

The first, if you are from Pacitan direction, use highways Pacitan - Ponorogo, at the junction east market Arjosari you choose the left lane (see signpost). Arriving at Jatimalang three-junction please you choose a straight line to the direction of hot water, if it will lead to the right Arjosari - Nawangan path.
The second path when you are from Ponorogo direction, exactly in front of Koramil Arjosari there is a junction then choose right, then follow the signpost directions of Tirto Husodo hot water.
On arrival at the parking area of ​​hot water bath you will walk approximately 50 meters to the top by climbing stairs, because the location of the pool is in parking area. As for the entrance ticket you just spend money of 5,000 IDR for children and 10,000 IDR for adults are valid only one entry.
Existing facilities in Tirto Husodo are the presence of a villa that you can rent to stay, as well as several swimming pools for adults and for children. Besides, if you want to swim and not bring swimsuit you can rent in several stalls of pool area at an affordable price. If you can not swim and want to feel the heat of water here is not to worry. In the pool area there are 10 showers with hot water in it that you can use to shower.
In Tirto Husodo there are four pools, at the top there is one piece of pool where hot springs (main pool), two adult swimming pools, and a children's pool. Because the temperature is too hot visitors be banned to enter or touch water in the main pool. The hot water in the main pool is channeled into three other pools and mixed with cold water according to the temperature of the human body. The adult pool has a depth of approximately 1.5 m while for children pool has a depth of 30 cm. The swimming pool here surrounded by green hills and on the top of mountain with a visible white rock called Mount Kelir.
Photo Gallery

Latest News
Luweng Karan Cave Luweng Jaran is the longest cave in Indonesia, which last data entry on the list of the world's longest cave Luweng Jaran registered in 2002 with a total length reaches 24 km. Location L. Luweng Jaran located in the village, Kec. Punung, Pacitan, East Java. It was first discovered by local residents, was first explored by the Joint Expedition team Anglo – Australian, who was accompanied by a crawler Caves of Indonesia in 1984. At that time, the mapping reaches 11 km, then the expedition was continued…
---
Teleng Ria Beach Teleng Ria beach is the nearest destination while visiting Pacitan Regency, it is about 5 minutes from the city. This beach faced to 'Pantai Selatan' or South Sea with the extent of white sand along 3 km. The distance from the Capital of Pacitan regency to the location is only 3,5 km, and it is easily reached with various vehicle. The wave is medium and enjoyable for swimming and also to have a picnic with family. It has white sand and beautiful panorama guarded by limo mountains.…
---
Tabuhan Cave According to the public story around, Tabuhan cave has found by Kyai Santiko who lost his ox but finnaly the ox was come to a cave. His ox didn't want to out from the cave, because it save many water from the root on it. After the brushwood has cleaned, the cave was taken care by Raden Bagus Joko Lelono and a princess Raden Ayu Mardilah. Tabuhan Cave is on the southwest coast East Java, is the emmense interior of Tabuhan cave. This cave called Tabuhan because it…
---
Teleng Ria Beach Teleng Ria beach is the nearest from Pacitan, it is about 5 minutes from the city. This beach faced to 'Pantai Selatan' with extent of white sand along about 3 km length. The distance from the Capital of Pacitan regency to the location is only 3,5 km, and it is easily reached with various vehicle. The wave is medium and enjoyable for swimming and also to have a picnic with family. It has white sand and beautiful panorama guarded by limo mountains. Various supporting facilities which have…
---