Segara Anakan Beach
---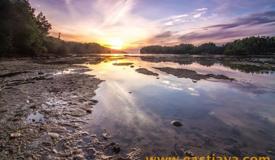 The South Coast is identic with the unpredictable big waves, exceptions to Segara Anakan Beach or Segoro Anakan. With the calm atmosphere and white sand beach, but Segara Anakan Beach is relatively rare to visit. The beautiful colors sea water and marine shallow trough, beach caves are formed by the waves and cliffs around the coast into the distinctive characteristics of this beach.
For those who like the charm hidden beach, this is one that can be offered Pacitan. Obviously, once come will not forget. One of beaches which is suitable for playing with sand and seawater. Bay shaped like the letter C with end of the bay facing east, has some pretty best spot. The cluster of small islands which had turned green plants, was incredible.
Pacitan is one of regency in East Java which has beaches are quite beautiful, has some best spots. There are at least three more beaches in the region. The coastal scenery is almost equal to the coastal areas in Raja Ampat Papua. The region formed like a cluster of small islands which had turned green plants. One of those are can be said Klayar Beach, Watu Karung Beach, Srau Beach, Banyu Tibo Beach and many more.
Segara Anakan Beach is situated in the hamlet of Tawang Wetan, Sidomulyo village, Ngadirojo (Lorog) district of Pacitan. From the downtown Pacitan to get to the beach must be traveled within 40 km. The streets are surrounded by panoramic natural beauty, it forms a bay which has tremendous potential in terms of both travel and Nature resource.
Segara Anakan often called Ngglandang Beach is a gulf. As a way out of the fishing boats that connect off sea, there is a connecting road with a width of approximately 100 meters by the locals called Plawangan which means door.
The beach is located close to residential areas were majority of fishermen as a haven of boats. Along the development era, Segara Anakan Beach has undergone a change. The beach has been established buildings such as TPI (fish auction place), food stalls, and other buildings such as the maintenance of a lobster. Although the beach is undergoing a change, but there is something that makes beach still refresh your eyes. Because at Segara Anakan these seedlings have-expanse of sand that make up the sub beach. There are 8 tiny beaches each measuring no more than 300 meters, each of which has its own characteristics , among others;

Segara Anakan Beach itself
Ngaluran Beach, has a long beach about 300 meters and a width of approximately only 10 meters of sand in the form of mud
Setro Beach, adjacent to Ngaluran Beach, only separated by a large stone.
Nglaran Beach, was very unique because the entire surface of beach is covered by small rocks like coral that are not owned by the surrounding beaches.
Wedhi Putih or White Sand Beach, as the name of beach expanse of white sand.
Kamal Tuo Beach, Kamal Enom Beach and Dadab Bong Beach, the third characteristic of these beaches are almost same and adjacent, beaches was almost same structure in the form of rocks, sand whereas only some few.
Photo Gallery

Latest News
Luweng Karan Cave Luweng Jaran is the longest cave in Indonesia, which last data entry on the list of the world's longest cave Luweng Jaran registered in 2002 with a total length reaches 24 km. Location L. Luweng Jaran located in the village, Kec. Punung, Pacitan, East Java. It was first discovered by local residents, was first explored by the Joint Expedition team Anglo – Australian, who was accompanied by a crawler Caves of Indonesia in 1984. At that time, the mapping reaches 11 km, then the expedition was continued…
---
Teleng Ria Beach Teleng Ria beach is the nearest destination while visiting Pacitan Regency, it is about 5 minutes from the city. This beach faced to 'Pantai Selatan' or South Sea with the extent of white sand along 3 km. The distance from the Capital of Pacitan regency to the location is only 3,5 km, and it is easily reached with various vehicle. The wave is medium and enjoyable for swimming and also to have a picnic with family. It has white sand and beautiful panorama guarded by limo mountains.…
---
Tabuhan Cave According to the public story around, Tabuhan cave has found by Kyai Santiko who lost his ox but finnaly the ox was come to a cave. His ox didn't want to out from the cave, because it save many water from the root on it. After the brushwood has cleaned, the cave was taken care by Raden Bagus Joko Lelono and a princess Raden Ayu Mardilah. Tabuhan Cave is on the southwest coast East Java, is the emmense interior of Tabuhan cave. This cave called Tabuhan because it…
---
Teleng Ria Beach Teleng Ria beach is the nearest from Pacitan, it is about 5 minutes from the city. This beach faced to 'Pantai Selatan' with extent of white sand along about 3 km length. The distance from the Capital of Pacitan regency to the location is only 3,5 km, and it is easily reached with various vehicle. The wave is medium and enjoyable for swimming and also to have a picnic with family. It has white sand and beautiful panorama guarded by limo mountains. Various supporting facilities which have…
---