Klayar Beach
---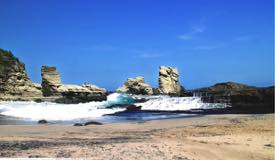 Klayar Beach is resides in Donorojo district, Pacitan Regency. It is about 35 km towards west Pacitan city. It can reach about 60 minutes from the city. Many rockies like spink in Mesir are settled in this beach. Klayar with its dune has a distinctive feature from another. Its waves dashed against the rock spourting from the hole make sound like a bamboo flute. The springkling of waves rush to the beach and out through the hole spurting about 7 meters high and has a sound like blowing bamboo flute.
Klayar Beach has charming beauty. This beach is really natural for not many visitors that coming to this beach. Klayar beach is very silent; you can even hear the wind that blows and enjoying the nuance around the beach.
Klayar Beach is located approximately 45 km west of Pacitan and can be reached by motorcycle or private car. When traveling to Klayar the visitors will be faced with a challenging road like narrow steps and broken road in some parts, the sharp turns and hilly route. There are several sections with the rise and fall that quite extreme. Nevertheless, the scenic beauty of the hills and green valleys will accompany all the way to Klayar Beach.
Klayar beach can be regarded as the beach that suitable for surfing. At certain times, the waves that exist are very suitable for surfing. In addition, the bluish panoramic and white sandy beach will pamper your to stay longer at this place.
To reach Klayar beach can be accessed by using car or motorcycles, while public transportation are available in the morning, together with local people that going to the market.
If you are from Yogyakarta, there are some routes that can be chosen, but the fastest way is recommededly from Gunung Kidul regency, via Wonosari, and it takes only 2,5 hours. The route to Pacitan from Gunung Kidul Wonosari will be: Wonosari – Pathuk – Wonosary city – Pracimantoro – Giribelah – the border Central Java & East Java – Punung – Klayar.
While those that coming from Solo via Pracimantoro, they can carry on the route until reaching Giribelah and turn right to Kalak and it arrives in Klayar.
Photo Gallery

Latest News
Luweng Karan Cave Luweng Jaran is the longest cave in Indonesia, which last data entry on the list of the world's longest cave Luweng Jaran registered in 2002 with a total length reaches 24 km. Location L. Luweng Jaran located in the village, Kec. Punung, Pacitan, East Java. It was first discovered by local residents, was first explored by the Joint Expedition team Anglo – Australian, who was accompanied by a crawler Caves of Indonesia in 1984. At that time, the mapping reaches 11 km, then the expedition was continued…
---
Teleng Ria Beach Teleng Ria beach is the nearest destination while visiting Pacitan Regency, it is about 5 minutes from the city. This beach faced to 'Pantai Selatan' or South Sea with the extent of white sand along 3 km. The distance from the Capital of Pacitan regency to the location is only 3,5 km, and it is easily reached with various vehicle. The wave is medium and enjoyable for swimming and also to have a picnic with family. It has white sand and beautiful panorama guarded by limo mountains.…
---
Tabuhan Cave According to the public story around, Tabuhan cave has found by Kyai Santiko who lost his ox but finnaly the ox was come to a cave. His ox didn't want to out from the cave, because it save many water from the root on it. After the brushwood has cleaned, the cave was taken care by Raden Bagus Joko Lelono and a princess Raden Ayu Mardilah. Tabuhan Cave is on the southwest coast East Java, is the emmense interior of Tabuhan cave. This cave called Tabuhan because it…
---
Teleng Ria Beach Teleng Ria beach is the nearest from Pacitan, it is about 5 minutes from the city. This beach faced to 'Pantai Selatan' with extent of white sand along about 3 km length. The distance from the Capital of Pacitan regency to the location is only 3,5 km, and it is easily reached with various vehicle. The wave is medium and enjoyable for swimming and also to have a picnic with family. It has white sand and beautiful panorama guarded by limo mountains. Various supporting facilities which have…
---