Pidakan Beach
---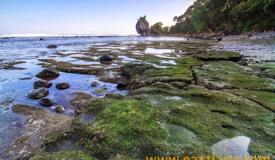 Talk about one of beaches in Tulakan district of Pacitan named Pidakan Beach also could be said Pidakkan or Pidak'an or even to write Pida'an Beach. It sounds a little odd with the name of the beach (foothold) or it could be interpreted beachhead. Indeed, as the names of beaches in Java language. Pidakan Beach is still one spot of Kuncir Beach, located precisely in the hamlet Godeg Kulon, Jetak village, Tulakan district, Pacitan regency of East Java. Located about 15 km from Tulakan town, and about 30 km from the west if downtown Pacitan.
A characteristic of Pidakan Beach are among the material coast is 70% of natural rocks and the rest are white sand, so there are a lot of rocks nature of which are in a variety of shapes and sizes, there is a white round like river rocks rather large scattered along the coast, carved stone and others as well as no less than a lot of rocks on the beach seemed to exist as fish breeding ponds are prepared to the visitors for fishing or swimming in it. As like the other beaches are white sand, cliffs and coral that will be encountered around.
Since the construction of South Line Road or JLS (Jalur Lintas Selatan) Pidakan Beach increasingly popular and very easy to visit. Takes JLS Pacitan to Trenggalek there are two paths the fork entry that can be passed to this beach. The route is as follows; If you come from Pacitan town go along to market Arjowinangun turn right direction Kebonagung then continues JLS eastward, after entering the territory Tulakan will meet signboard roadside are on the right reads Pidakan Beach.
Secondly, you can pass the next signpost Pidakan Beach. The road is pretty good and is paved. From the road get the location of beach. Also do not forget to ask some locals around in case you get confused.
Recommended to departing from the west, you skip the first driveway and will arrive at Pidakan Beach at the western end. The glance panorama of Pidakan Beach is the first presence of palm trees grow in the beach with a flat location and quite roomy. For photography lovers Pidakan Beach is recommended, a lot of coconut trees and rocks scattered on beach. You can also see starfish and other marine life such as sea urchins, mud crab, and also many shells of shellfish and other mollusk here. For facilities are available with the tickets only pay IDR 2,000/person. Here provided a parking space and can set up camp, food stalls usually only open during the day.
With the panoramic views of the typical rocks, white sand, and wind has a breezy charm beauty of scenery during the afternoon. The view at sunset is so beautiful when seen from this location. But not only that, the charm of pebbles in white sand also be a plus for a uniqueness of tourist attractions.
Distance from the city center will take approximately 1 hour drive by JLS. You will be treated to views of nature from the wonderful Pidakan Beach. Painting nature is very beautiful and charming with exotic charms dominance of orange at sunset.
Photo Gallery

Latest News
Luweng Karan Cave Luweng Jaran is the longest cave in Indonesia, which last data entry on the list of the world's longest cave Luweng Jaran registered in 2002 with a total length reaches 24 km. Location L. Luweng Jaran located in the village, Kec. Punung, Pacitan, East Java. It was first discovered by local residents, was first explored by the Joint Expedition team Anglo – Australian, who was accompanied by a crawler Caves of Indonesia in 1984. At that time, the mapping reaches 11 km, then the expedition was continued…
---
Teleng Ria Beach Teleng Ria beach is the nearest destination while visiting Pacitan Regency, it is about 5 minutes from the city. This beach faced to 'Pantai Selatan' or South Sea with the extent of white sand along 3 km. The distance from the Capital of Pacitan regency to the location is only 3,5 km, and it is easily reached with various vehicle. The wave is medium and enjoyable for swimming and also to have a picnic with family. It has white sand and beautiful panorama guarded by limo mountains.…
---
Tabuhan Cave According to the public story around, Tabuhan cave has found by Kyai Santiko who lost his ox but finnaly the ox was come to a cave. His ox didn't want to out from the cave, because it save many water from the root on it. After the brushwood has cleaned, the cave was taken care by Raden Bagus Joko Lelono and a princess Raden Ayu Mardilah. Tabuhan Cave is on the southwest coast East Java, is the emmense interior of Tabuhan cave. This cave called Tabuhan because it…
---
Teleng Ria Beach Teleng Ria beach is the nearest from Pacitan, it is about 5 minutes from the city. This beach faced to 'Pantai Selatan' with extent of white sand along about 3 km length. The distance from the Capital of Pacitan regency to the location is only 3,5 km, and it is easily reached with various vehicle. The wave is medium and enjoyable for swimming and also to have a picnic with family. It has white sand and beautiful panorama guarded by limo mountains. Various supporting facilities which have…
---