Dangkal Beach
---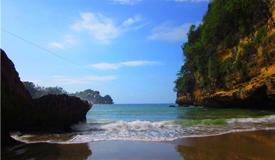 Kebonagung sub-district is known as an area that has the most beach destinations than other area in Pacitan. There are 10 beaches that lies in this district and some of them are already popular and others are still virgin.
One of beaches in Kebonagung that has unique landscape is Dangkal beach or better known as Padi Dangkal. While the road reaching up the beach is not easy, will be paid off after arrive at this beach.
Padi Dangkal beach has 2 main routes as the entrance gate:

West route. From Pacitan we can take Jalur Lintas Selatan or Pacitan southern route; after passing Gayam flyover, we are heading straight to Worawari village. Always pay attention at the right side, until you find the intersection to Dangkal Beach, just before the Worawari Bridge. At this point, we will pass the rocky road and it can only passed by motorcycle. After reaching the edge of the beach, we have to take a walk and crossing the river.
East Route. The road at this route is almost the same as west route, which is taking the Jalur Lintas Selatan Pacitan. After finding the big blue gate at the right way, we can continue the trip either using car or motorcycle, because the road is in good condition.
The scenery at east Dangkal Beach is as beautiful as in the west side. We can down the beach more free, because the shore is longer. The giant cliffs and the beautiful Limo Mountain as background will give tremendous sightseeing around the beach.
At the eastern end of the cliff, there is a ladder that can be used to climb the cliffs to see the view from the top of Pantai Dangkal hill. Need to be more carefull while reaching the stairs that made of wood. From the cliff, we can see white sandy beach with brownish highlights and the green nuance over the paddy fields that belong to the local inhabitants.
Dangkal Beach is a complete package for nature tourism activities. We can do camping, fishing, swimming, until the rather extreme activities such as surfing and rock climbing. We can reach this beach from the center of Pacitan for about 45 minutes.
Photo Gallery

Latest News
Luweng Karan Cave Luweng Jaran is the longest cave in Indonesia, which last data entry on the list of the world's longest cave Luweng Jaran registered in 2002 with a total length reaches 24 km. Location L. Luweng Jaran located in the village, Kec. Punung, Pacitan, East Java. It was first discovered by local residents, was first explored by the Joint Expedition team Anglo – Australian, who was accompanied by a crawler Caves of Indonesia in 1984. At that time, the mapping reaches 11 km, then the expedition was continued…
---
Teleng Ria Beach Teleng Ria beach is the nearest destination while visiting Pacitan Regency, it is about 5 minutes from the city. This beach faced to 'Pantai Selatan' or South Sea with the extent of white sand along 3 km. The distance from the Capital of Pacitan regency to the location is only 3,5 km, and it is easily reached with various vehicle. The wave is medium and enjoyable for swimming and also to have a picnic with family. It has white sand and beautiful panorama guarded by limo mountains.…
---
Tabuhan Cave According to the public story around, Tabuhan cave has found by Kyai Santiko who lost his ox but finnaly the ox was come to a cave. His ox didn't want to out from the cave, because it save many water from the root on it. After the brushwood has cleaned, the cave was taken care by Raden Bagus Joko Lelono and a princess Raden Ayu Mardilah. Tabuhan Cave is on the southwest coast East Java, is the emmense interior of Tabuhan cave. This cave called Tabuhan because it…
---
Teleng Ria Beach Teleng Ria beach is the nearest from Pacitan, it is about 5 minutes from the city. This beach faced to 'Pantai Selatan' with extent of white sand along about 3 km length. The distance from the Capital of Pacitan regency to the location is only 3,5 km, and it is easily reached with various vehicle. The wave is medium and enjoyable for swimming and also to have a picnic with family. It has white sand and beautiful panorama guarded by limo mountains. Various supporting facilities which have…
---