Ceprotan Ceremony
---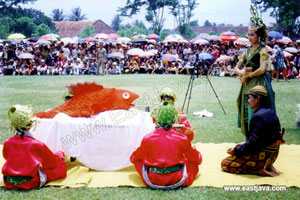 Ceprotan Ceremony is located in Sekar village, Donorojo District. This ceremony is the tradition activity of Sekar village custom, otherwise it always executed in Dulkangidah month (Javanese Month) friday or monday. This activity meant to memorize a legend of the goddess Sekartaji and Panji Asmorobangun through of "Bersih Desa" activity. Sekar village people hold the purification by throwing young coconuts. First the drama dance of Ki Godek and Dewi Sekartaji, continued by Ceprotan (throwing young coconuts) held by teenagers which consist of two group that throwing each other. At that time there fantastic sight if coconuts water spurting up to the air.

Supporting Facilities For Tourism Supporter
It about 30 minutes from Pacitan city. This area also equipped by hotel for the tourists comfort in visit this tourism object. Hotel is a real vital supporting facilities in Pacitan Regency.

Latest News
Luweng Karan Cave Luweng Jaran is the longest cave in Indonesia, which last data entry on the list of the world's longest cave Luweng Jaran registered in 2002 with a total length reaches 24 km. Location L. Luweng Jaran located in the village, Kec. Punung, Pacitan, East Java. It was first discovered by local residents, was first explored by the Joint Expedition team Anglo – Australian, who was accompanied by a crawler Caves of Indonesia in 1984. At that time, the mapping reaches 11 km, then the expedition was continued…
---
Teleng Ria Beach Teleng Ria beach is the nearest destination while visiting Pacitan Regency, it is about 5 minutes from the city. This beach faced to 'Pantai Selatan' or South Sea with the extent of white sand along 3 km. The distance from the Capital of Pacitan regency to the location is only 3,5 km, and it is easily reached with various vehicle. The wave is medium and enjoyable for swimming and also to have a picnic with family. It has white sand and beautiful panorama guarded by limo mountains.…
---
Tabuhan Cave According to the public story around, Tabuhan cave has found by Kyai Santiko who lost his ox but finnaly the ox was come to a cave. His ox didn't want to out from the cave, because it save many water from the root on it. After the brushwood has cleaned, the cave was taken care by Raden Bagus Joko Lelono and a princess Raden Ayu Mardilah. Tabuhan Cave is on the southwest coast East Java, is the emmense interior of Tabuhan cave. This cave called Tabuhan because it…
---
Teleng Ria Beach Teleng Ria beach is the nearest from Pacitan, it is about 5 minutes from the city. This beach faced to 'Pantai Selatan' with extent of white sand along about 3 km length. The distance from the Capital of Pacitan regency to the location is only 3,5 km, and it is easily reached with various vehicle. The wave is medium and enjoyable for swimming and also to have a picnic with family. It has white sand and beautiful panorama guarded by limo mountains. Various supporting facilities which have…
---