Kali Uluh Beach
---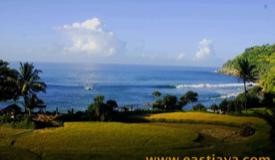 Kali Uluh beach is located at Klesem village, District Kebonagung, Pacitan, East Java. This beach can be reach approximately 30 minutes from downtown Pacitan. For the route that we can take, initially we will pass Jalur Lintas Selatan (Pacitan southern part) until just before the Gayam bridge, there is a small asphalt road to the left that will be the next track we been through. The road is up for few meters, then up to Gayam Market and turns right (towards the village Klesem), follow the road and reach through Gayam Bridge that transverse above Jalur Lintas Selatan.
After approaching the beach, the asphalt road will be replaced with rocky roads. Moreover, we will be treated by the road that flanked by hills, steep cliffs, narrowing the road, winding and sharp road. Be more careful at this point, and drive safely during this rocky road.
It is preferably to use motorcycle than a car for the road condition. However, this journey will be more fun for those who like adrenaline rush.
However, the tension and tiredness during the trip to reach Kali Uluh Beach, will be relieved when arriving in the location. The beautiful beach Kali Uluh showing up and pay the entire struggle during the road trip. The white sand that extends on the shoreline, the stones that arranged in a slick naturally give more impression that can be enjoyed.
On this beach there is a volleyball court near the entrance gate. Which are commonly used for practice and workout by the youth around the beach. In addition to a volleyball court, there are also some buildings layover for the fisherman or perhaps to keep their fishing equipment, there are huts, and also toilet.
The beach has natural and pretty sightseeing, crystal clear water, beautiful coral and away from the noise at city buzzling, with fairly large waves making it a paradise for surfers
Kaliuluh is one of the beaches that have big waves, but also save the enchanting beauty that has not been widely known by people. This beach is typically untouched by modernization and still virgin from any distraction.
Photo Gallery

Latest News
Luweng Karan Cave Luweng Jaran is the longest cave in Indonesia, which last data entry on the list of the world's longest cave Luweng Jaran registered in 2002 with a total length reaches 24 km. Location L. Luweng Jaran located in the village, Kec. Punung, Pacitan, East Java. It was first discovered by local residents, was first explored by the Joint Expedition team Anglo – Australian, who was accompanied by a crawler Caves of Indonesia in 1984. At that time, the mapping reaches 11 km, then the expedition was continued…
---
Teleng Ria Beach Teleng Ria beach is the nearest destination while visiting Pacitan Regency, it is about 5 minutes from the city. This beach faced to 'Pantai Selatan' or South Sea with the extent of white sand along 3 km. The distance from the Capital of Pacitan regency to the location is only 3,5 km, and it is easily reached with various vehicle. The wave is medium and enjoyable for swimming and also to have a picnic with family. It has white sand and beautiful panorama guarded by limo mountains.…
---
Tabuhan Cave According to the public story around, Tabuhan cave has found by Kyai Santiko who lost his ox but finnaly the ox was come to a cave. His ox didn't want to out from the cave, because it save many water from the root on it. After the brushwood has cleaned, the cave was taken care by Raden Bagus Joko Lelono and a princess Raden Ayu Mardilah. Tabuhan Cave is on the southwest coast East Java, is the emmense interior of Tabuhan cave. This cave called Tabuhan because it…
---
Teleng Ria Beach Teleng Ria beach is the nearest from Pacitan, it is about 5 minutes from the city. This beach faced to 'Pantai Selatan' with extent of white sand along about 3 km length. The distance from the Capital of Pacitan regency to the location is only 3,5 km, and it is easily reached with various vehicle. The wave is medium and enjoyable for swimming and also to have a picnic with family. It has white sand and beautiful panorama guarded by limo mountains. Various supporting facilities which have…
---