Srau Beach
---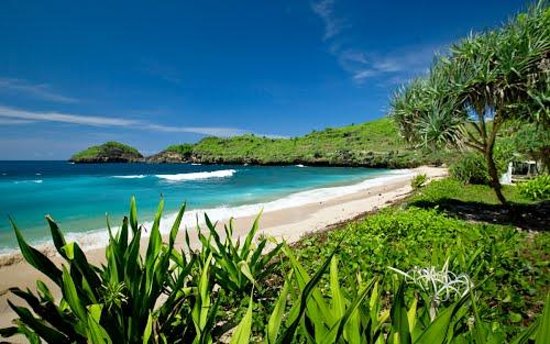 Better known as City of a thousand caves, Pacitan in East Java, in fact, has many beautiful beaches that are very tempting faith. One of the beaches you should not miss while on a vacation to Pacitan named Srau Beach.
Srau Beach located in the hamlet of Srau, Candi village, Pringkuku district, Pacitan of East Java. Almost all the beaches in Pacitan has white sand with waves big enough. No exception this one beach. The waves on Srau Beach as a fitting place for surfing. Not only local surfers are often showy action here. Also many foreigners who come to the beach for surfing.
Besides the big waves and soft white sand that is so tempting, the other attraction of Srau Beach worth to explore. The coral hills that embellish the views of the beach. If the water is receding, we can also walk to the rocks to find the best photo spot.
The existence of coral hills on Srau Beach is divided into three parts. The part of the beach that can be used to play around water and sand is the most western part. On the west coast there is a source of fresh water.
Srau Beach is approximately 25 km from Pacitan town. It took approximately 1.5 hours using a motor vehicle to get to the location. The location of the beach is still hidden, not even known to many people. Very fitting for you who love deserted beaches. For you who loves camp, Srau Beach also a very suitable place for fun with friends while camping.
The vicinity of Srau Beach no official accommodation. If you want to stay, you have to stay in a tent, or you can stay in locals house are around the beach. Besides you can enjoy the sunset moment when the weather is sunny. Please come to Srau Beach how beautiful sunset here.
Photo Gallery

Latest News
Luweng Karan Cave Luweng Jaran is the longest cave in Indonesia, which last data entry on the list of the world's longest cave Luweng Jaran registered in 2002 with a total length reaches 24 km. Location L. Luweng Jaran located in the village, Kec. Punung, Pacitan, East Java. It was first discovered by local residents, was first explored by the Joint Expedition team Anglo – Australian, who was accompanied by a crawler Caves of Indonesia in 1984. At that time, the mapping reaches 11 km, then the expedition was continued…
---
Teleng Ria Beach Teleng Ria beach is the nearest destination while visiting Pacitan Regency, it is about 5 minutes from the city. This beach faced to 'Pantai Selatan' or South Sea with the extent of white sand along 3 km. The distance from the Capital of Pacitan regency to the location is only 3,5 km, and it is easily reached with various vehicle. The wave is medium and enjoyable for swimming and also to have a picnic with family. It has white sand and beautiful panorama guarded by limo mountains.…
---
Tabuhan Cave According to the public story around, Tabuhan cave has found by Kyai Santiko who lost his ox but finnaly the ox was come to a cave. His ox didn't want to out from the cave, because it save many water from the root on it. After the brushwood has cleaned, the cave was taken care by Raden Bagus Joko Lelono and a princess Raden Ayu Mardilah. Tabuhan Cave is on the southwest coast East Java, is the emmense interior of Tabuhan cave. This cave called Tabuhan because it…
---
Teleng Ria Beach Teleng Ria beach is the nearest from Pacitan, it is about 5 minutes from the city. This beach faced to 'Pantai Selatan' with extent of white sand along about 3 km length. The distance from the Capital of Pacitan regency to the location is only 3,5 km, and it is easily reached with various vehicle. The wave is medium and enjoyable for swimming and also to have a picnic with family. It has white sand and beautiful panorama guarded by limo mountains. Various supporting facilities which have…
---