General Sudirman Monument
---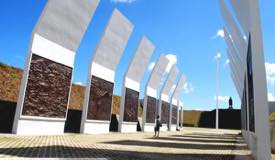 General Sudirman Monument is one of historical sites in Pacitan, East Java. This monument was built to commemorate the struggling fought of General Sudirman during the revolutionary time against Dutch colonization. This monument is located is Sobo, Pakisbaru, Nawangan Pacitan, which is about 34Km from downtown Pacitan and lies in an area for about 97,831 meter square.
We will see the sclupture of Gen Sudirman as high as 8 Meter up straight. In addition to the monument, there is also a house building that was a basecampe the general while doing guerilla against the Dutch. The house was occupied for almost 107 days, since April, 1 1949 – July, 7 1949. This monument complex is facilitated by library, audio visual room, reseptionist, art market, cafetaria, sport field and diorama room that showing the moment of Indonesia independent day.
At this monument complex, we can see the relief that made by bronse showing up the struggle of Sudirman. The relief is also showing up the early life of Sudirman until his death.
Before entering the monument, we will pass the 8 halls that refers to 8 provinces in 1948-1949. At each hall wes can see the motivation words that nailed in the hall. One of the motivation words are " Walau dengan satu paru paru dan ditandu pantang menyerah", which means We'll never retreat even with one lung and being stretchered.
To reach the monument, we have to pass the stairs path, with line stairs of 45, 8 and 17. The numbers are indicate the year, month and date of Indonesia independent day.
Photo Gallery

Latest News
Luweng Karan Cave Luweng Jaran is the longest cave in Indonesia, which last data entry on the list of the world's longest cave Luweng Jaran registered in 2002 with a total length reaches 24 km. Location L. Luweng Jaran located in the village, Kec. Punung, Pacitan, East Java. It was first discovered by local residents, was first explored by the Joint Expedition team Anglo – Australian, who was accompanied by a crawler Caves of Indonesia in 1984. At that time, the mapping reaches 11 km, then the expedition was continued…
---
Teleng Ria Beach Teleng Ria beach is the nearest destination while visiting Pacitan Regency, it is about 5 minutes from the city. This beach faced to 'Pantai Selatan' or South Sea with the extent of white sand along 3 km. The distance from the Capital of Pacitan regency to the location is only 3,5 km, and it is easily reached with various vehicle. The wave is medium and enjoyable for swimming and also to have a picnic with family. It has white sand and beautiful panorama guarded by limo mountains.…
---
Tabuhan Cave According to the public story around, Tabuhan cave has found by Kyai Santiko who lost his ox but finnaly the ox was come to a cave. His ox didn't want to out from the cave, because it save many water from the root on it. After the brushwood has cleaned, the cave was taken care by Raden Bagus Joko Lelono and a princess Raden Ayu Mardilah. Tabuhan Cave is on the southwest coast East Java, is the emmense interior of Tabuhan cave. This cave called Tabuhan because it…
---
Teleng Ria Beach Teleng Ria beach is the nearest from Pacitan, it is about 5 minutes from the city. This beach faced to 'Pantai Selatan' with extent of white sand along about 3 km length. The distance from the Capital of Pacitan regency to the location is only 3,5 km, and it is easily reached with various vehicle. The wave is medium and enjoyable for swimming and also to have a picnic with family. It has white sand and beautiful panorama guarded by limo mountains. Various supporting facilities which have…
---