Pura Luhur (Uluwatu) Temple
---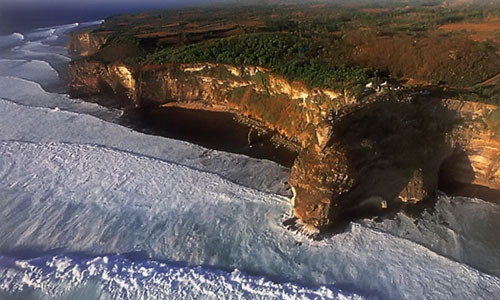 Pura Luhur Uluwatu is one of Bali's kayangan jagat (directional temples) and guards Bali from evil spirits from the SW, in which dwell major deities, in Uluwatu's case; Bhatara Rudra, God of the elements and of cosmic force majeures. Bali's most spectacular temples located high on a cliff top at the edge of a plateau 250 feet above the waves of the Indian Ocean. Uluwatu lies at the southernmost of Bali in Badung regency. Dedicated to the spirits of the sea, the famous Pura Luhur Uluwatu temple is an architectural wonder in black coral rock, beautifully designed with spectacular views. This is a popular place to enjoy the sunset. Famous not only for its unique position, Uluwatu also boasts one of the oldest temples in Bali, Pura Uluwatu. Most of Bali's regencies have Pura Luhur (literally high temples or ascension temples) which become the focus for massive pilgrimages during three or five day odalan anniversaries. The photogenic Tanah Lot and the Bat Cave temple, Goa Lawah, is also Pura Luhur. Not all Pura Luhur are on the coast, however but all have inspiring locations, overlooking large bodies of water.
Pura Uluwatu is located on the cliff top close to the famous surf break on the SW of the Bukit peninsula. Empu Kuturan, a Javanese Hindu priest who built the tiered meru, founded the temple in the 10th century and a shrine here as well as at other key locations longs the Balinese coast. Browse Dollar General Ad on WeeklyAds2. In the 15th Century the great pilgrim priest Dhang Hyang Dwijendra, who established the present form of Hindu-Dharma religion, chose Pura Uluwatu as his last earthly abode: history records that Dwijendra achieved moksa (oneness with the godhead, in a flash of blazing light) while meditating at Uluwatu. The temple is regarded, by Brahman's island wide, as his holy 'tomb'. Legend also tells us that Dwijendra was the architect of the beautiful temple, as well as many other major temples on Bali, Lombok and Sumbawa. In the 17th century Niratha also from Java came to Bali and built temples, adding to Uluwatu.
Behind the main pagoda of Pura Uluwatu's small inner sanctum, a limestone statue of a Brahman priest surveys the Indian Ocean-it is said the statue represents the founding priest Dwijendra. Another shrine within the complex represents the boat on which Dwijendra traveled from, then, Hindu Java. According to legend he arrived at Pura Peti Tenget, north of Kuta.
Uluwatu Beach is known for its surf and, in nearby hostelries, its full moon rage parties. It rages at the temple too but in an orderly way, thanks to the royal house of Puri Agung Jero Kuta, Denpasar, who are the temple's hereditary pangemong (custodians). Hundreds of nobles from this family, and many 'devotees' (pengayah) and village pemangku priests from nearby hamlets, ensure that every seven months (on Anggar Kasih Medangsya by the Wuku Calendar, to be exact) the festival is run efficiently, and most elegantly. The palace is proud of its ancestral role: it manages the awesome logistics with fitting dignity.
Things to Do
Being a popular surfing spot for the very experienced, Uluwatu offers a wonderful vantage point to view a spectacular sunset. Warungs or small restaurants perched on the cliff offer a comfortable spot to survey the vast Indian Ocean beyond and below the 100-meter-high cliffs with panorama on three sides. Monkeys inhabit the temple and cliff face hoping for a banana or some peanuts from the visitors.
How to Get There
Uluwatu Temple is located in the southern tip of Bali, exactly in Pecatu Village, Kuta South District of Badung. It is at the southernmost of Bali at a place known to tourist as Bukit Peninsula. To getting there, from Nusa Dua Bali to Uluwatu takes about 45 minutes' drive. A good road runs from Kuta use taxi or public transportation will take 30-40 minutes. You can consider hiring a car for a day in Bali for the other excursions since all he tourist spots are far from each other.
Nearby Tourist Attractions

Uluwatu Beach
Tirtha Wedding Chapel
Kecak Dance Performance at Uluwatu
Accommodations

Conrad Bali
The Westin Resort, Nusa Dua
Grand Nikko
Mulia Resort.
Get more detail information and load more things to do in Bali backpacker.

Latest News
Tibumana Waterfall is one of the hidden tourist spots in Bali. Its presence in a rural area of ??Bangli, is still thick with shades of lush green trees. The existence of its location makes this tourist spot very comfortable to relieve fatigue while on vacation.Tibumana Waterfall Bangli Bali has the uniqueness of its shape like twin waterfalls. Because there are two streams of water located side by side. Even so, the waterfall with a height of 20 meters does not always flow the same. There are times when only one…
---
There are many ways to spend honeymoon with your partner, one of way is visiting romantic tourist destinations. About romantic tourist destinations, Bali is the right place for those of you who want to enjoy a honeymoon. Taking a walk to the beach together or enjoying the natural atmosphere away from the hustle and bustle of the city are things you can do when visiting this Gods Island. Campuhan Hill, UbudEnjoying the beautiful natural atmosphere while holding hands, walking down a beautiful hill is something you can find at Campuhan…
---
Pandawa Beach is one of the tourist areas in the southern Kuta area, Badung Regency, Bali. At first, foreign tourists who came to this place called Pandawa Beach with the name 'Secret Beach' . Meanwhile, local people call it Kutuh Beach, according to the location of the beach which is part of the Kutuh Village area. The view of the limestone hill on the left and right of the road will welcome you when you enter Pandawa Beach area. This beach is located behind a sturdy cliff which makes it…
---
Lovina Beach is known as one of beaches frequented by dolphins in Indonesia. The presence of dolphins is one of the attractiveness of this beach. Formerly, Lovina Beach is better known among foreign tourists. Because of its calming atmosphere, tourists are so happy to visit this Lovina Beach. In the end, Lovina Beach developed into a tourist attraction in the northern part of Bali that can be visited by all groups. Before visiting Lovina Beach, it's good you know first what's on Lovina Beach. Location and Route to Lovina Beach…
---