Sanur Beach
---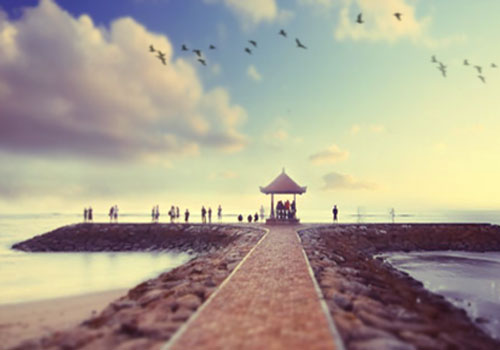 Sanur is one of Bali's biggest traditional villages but it's also one of the most established tourist areas. Sanur was Bali's first beach resort but still retains its Balinese character and old style village ambiance. On the southeastern side of Bali, Sanur beach is easily reachable from Denpasar, about a 5 to 10 minute drive. Sanur is an excellent site to watch the sun rises, as we jog along the white sandy beach. Being one of the first resorts developed in Bali, Sanur maintains its traditions. Only a stone thrown away from the beach, ancient temples stand as solemn as they have been in centuries past.
Palm-lined beach, facing the Indian Ocean towards the east, Sanur is an excellent place to see the sun rise in the morning. "Bali is the morning of the world", it is the right sentence for Bali if we has visited Sanur. Offshore reefs protect the beach against the waves, and make it popular for windsurfing, boating, and other water sports. It is one of the first areas where one can find good hotels, restaurants, shops, and other tourist facilities.
It's also the place for some of Bali chic fashion shops, hot hotels and well-known restaurants. It is a good location to explore the rest of Bali. Fine hotels, restaurants and modern entertainment venues complement traditional village activities like drama and dance, so it's a good place to enjoy the delights of a tropical island and gain a real appreciation of Balinese culture and local life. Gradual and early development has meant that Sanur has grown alongside the village, with hotels located right next door to local meeting halls and Brahmanic temples. Many hotels have expansive gardens that face the ocean in a picturesque unbroken seaside promenade.