Nusa Dua
---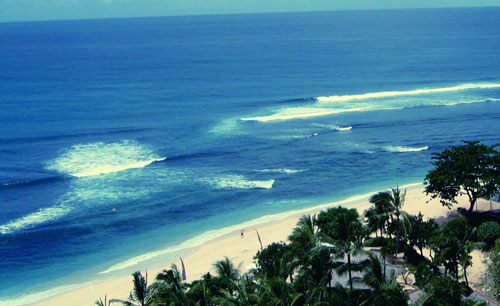 Bali's most prestigious resort area, Nusa Dua is where the tourists will find international world, class luxury hotels elegantly lining beautiful white sands. Located on the Bukit peninsula, in the southern part of Bali, approximately 10 km from the international airport. It is quiet and exclusive with superb facilities.
Crystal clear water and stretches of white sandy beach of Nusa Dua makes Nusa Dua a perfect spot for luxurious resorts to which exhausted the bodies, after a Barong performance at Batubulan and a long climb of the steps of the Mother Temple Besakih, will want to rest. Some of the most sumptuous and luxurious hotels in the world find their home in Nusa Dua Bali. We can tee off into the sunset, while watching the gentle waves come from the blue sea and caress the banks surrounding the luscious greens. Tranquil swimming pools under the coconut trees seem to be one with the distant blue sea. Art galleries and numerous shops surround them.
Nusa Dua is really about taking it easy and relaxing in total luxury. As most of the hotels are 5 stars, every comfort is at our disposal as well as a gorgeous white sand beach. Nusa Dua was designed for the luxury conscious with a heavy concentration of big name hotels lining the beautiful white sand beach. The kind of activities on offer gives a flavor of Nusa Dua. The Bali Golf and Country Club, an immaculately landscaped 18 holes ocean view course. The Bali International Lawn Tennis & Lawn Bowls Club next to the Galleria Nusa Dua a spacious shopping mall with boutiques and up market restaurants. Close by Chandra Koka Amphitheatre provides a venue for traditional entertainment including arts festivals like the Nusa Dua Arts and Culture Festival. Stroll to the northern end of Nusa Dua for parasailing, jet skis, snorkeling/diving trips or better still, head for Tanjung Benoa.
Some of the resorts have private beaches but most areas are accessible. The stretch past the Hilton Resort has been a public beach and during the wet season, the outer reef there is a popular surf break. At present we will find some simple warungs selling good food at cheap prices along this beautiful stretch of white sandy beach that offers excellent swimming conditions in a protected lagoon.