Padang Padang Beach
---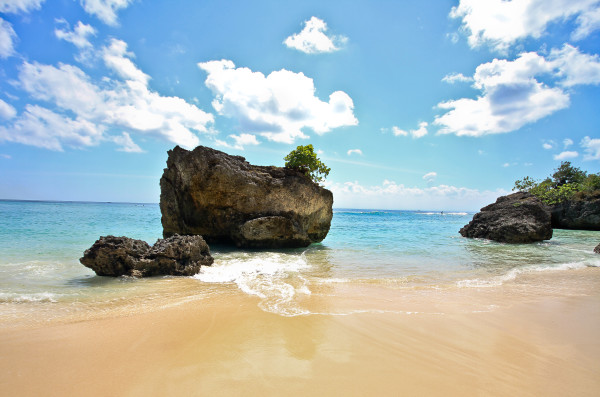 Looking for a beach with beautiful panorama and unspoiled environment seems not a difficult thing in Bali. Padang Padang Beach is one of them. Padang Padang Beach Bali, also known by the name of Labuan Sait Beach, is well-known to domestic and foreign tourists. Attractions in Bali is located at Jalan Labuan Sait, Pecatu Village, South Kuta District, Badung Regency of Bali.
Bali island has two beaches located at different places and both have names with words Padang, namely Padang Padang Beach Bali is located in the south and Padang Bai in East Bali.
For those of you who have often traveled to Bali, Kuta Beach is probably too mainstream you visit, and of course you want an alternative to beach tourism in Bali. Generally, a beach resort in Bali which has white sand as a favorite sunbathing tourists. Especially those who stay in Uluwatu tourist area. Padang Padang Beach, you will find after passing Dreamland Beach. Almost every day this beach is never empty of visitors, especially tourists from abroad. It was like sunbathing on the overseas beach, for locals anyway.
Things to Do in Padang Padang Beach
The uniqueness of site with a shady background hills and steep rocks, are characteristic of the beach. To get to Padang Padang Beach visitors must pass through the road that resembles a cave. Then down past dozens of stairs which is only enough for one person. Once past the stairs, white sand with calm and clear water will be seen in front of the eyes.
Padang Padang Beach Bali is one of the set of a Hollywood movie Eat Pray Love, starring Julia Robets. Offering white sand and calm surf. Plus one music group Michel Learn To Rock chose this place for location filming one of their music clip videos. This makes Padang Padang Beach increasingly popular in foreign countries. Especially for those who like to play surfing, then this beach is perfect for your visit.
Surfers from around the world certainly never tried sensation surf this beach. Usually they swim somewhat into to get big and long waves. Because at the beach water is calm and the waves are not too big.
By late afternoon many local villagers who come to visit. Especially for teenagers who take walks on the beach while occasionally take pictures of appropriate angle they like. Cool coastal air, bright blue sky and clear sea water greenish, very supportive for those who want to take pre-wedding photos with the background of the beach.
How to Get There
Access to Padang Padang Beach is easy, only takes about 45 minutes from Ngurah Rai Bali by motor vehicle. The best way to Bali Padang Padang beach locations are using the rental car in Bali with a driver. By using the services of a car rental you will not need to think how to find the location of Padang Padang Beach.
Accommodation
If you want to stay in this beautiful coastal area you will not be difficult to get a hotel, villa or bungalow. Around the area of Uluwatu has many built inn. Starting from the budget to class hotels. Those who come mostly from European travelers who want a quiet and comfortable atmosphere. Please you see the list of lodgings near this beach.
Guna Mandala Inn
Ananta Bali Uluwatu Resort & Spa
La Joya Bungalows
Uluwatu Cottages