Sukawati
---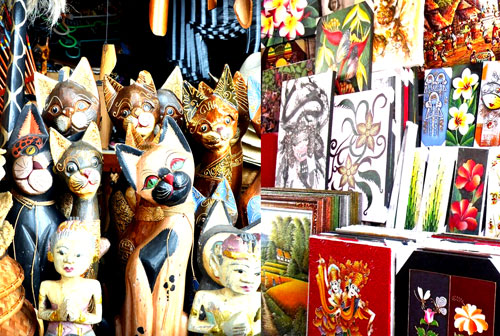 Sukawati area is known for its art market that become 'a must see' place by tourists especially the local ones from Jakarta or other area in Java. Huge number of small stalls occupied the two stories building offer a lot of cheap souvenirs. Almost any kind of Bali's souvenirs can be found in here either painting, woodcarving, clothes, temple umbrellas and other temple accessories, leather puppet, wind chime, jewelries and others. The souvenirs choices are has huge quantity and available in various choices.
Sukawati road-facing market located in_Gianyar Regency has a strategic position, as it is passed through during the tour to some destinations to the east. Sukawati art market is close to Celuk village, the center of gold & silversmiths. We can drop in after watching barong and Kris dance performance in the morning. It cans be accessed through bemo transport, tour bus or taxi.
Two hundred meters toward west from the Sukawati Art Market, on the right side of the road, there is another market called 'Pasar Seni Pagi' or 'the morning Art Market' which only open very early in the morning until around 7 AM. The crowd of souvenirs retailers from other part of Bali will come here to get semi-finished product with a very low price. Many of Bali's most established puppeteers live in Sukawati. In line with this fact, Sukawati is also the center of Shadow puppets production center. The leather puppet, 'wayang kulit' are made either of cow or buffalo hide.