Tampak Siring
---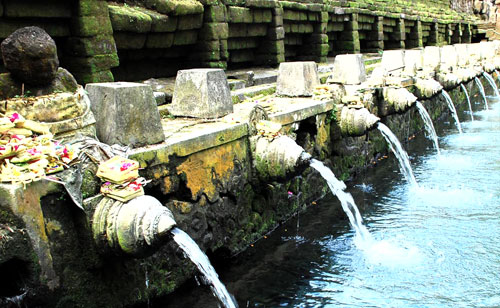 Pura Tirta Empul is the temple of Tampak Siring, built around a sacred spring. Tampak Siring is an inscription dates the spring all the way back to 926AD; and there are fine carvings and Garudas on the courtyard buildings. The temple and its two bathing spots have been used by the Balinese for over a thousand years for good health and prosperity; as the spring water really does have the power to cure. Regular purification ceremonies also take place here.
A little off the main road in Tampaksiring is Mount Kawi with its group of large stone memorials cut into cliffs on either side of a picturesque river valley. It is believed to date from 11th century; one is of Bali's most impressive sights. Tampak Siring artists produce marvelous bone and ivory carvings. Both sites open daily. By public transport from Ubud, catch a bemo north to Tampaksiring from the junction in Bedulu, which is southeast of Ubud.
An archaeological complex lies on gorge of Pakerisan River. To reach the complex visitors must walk about 600 meters from the parking area to the ticket counter than walked down on 315 stone steps. Before take a cross on the bridge at the bottom of the valley make a turn to the left to see the first stone monument. Another group of stone monument is located on the left side of the main temple across of the river.
The monuments are hewn in relief on a solid rock hill commonly called candi (temple). There are shaped like burial towers found all over Central and East Java. However, there are many theories telling identity of the royal personages honored here. One very credible theory suggests the five temple in the main group were built for King Udayana, his Javanese queen Gunapriya, his concubine, his illustrious eldest son Airlangga who ruled over East Java, and his youngest son Anak Wungsu. Reigning over Bali from AD 1050 to 1077, Anak Wungsu is believed to have given up his kingdom to become a religious hermit.
In the right of the main ensemble of temples is a cloister with five cells carved out of rock. The cloister inmates most likely were caretakers of the temple. There's a second hermitage near the main cloister, consisting of niches around a central courtyard, which might have served as sleeping quarters for visiting pilgrims. To get into this part of the temple visitors must take of their shoes. A walk up north of the temple complex could be a short nice walking along the rice field and river stream. The path leads to a small waterfall after 800 meters away and about 1,5 kilometers to Mengening Temple.