Best Things to Do in the Enchanting City of Amlapura
---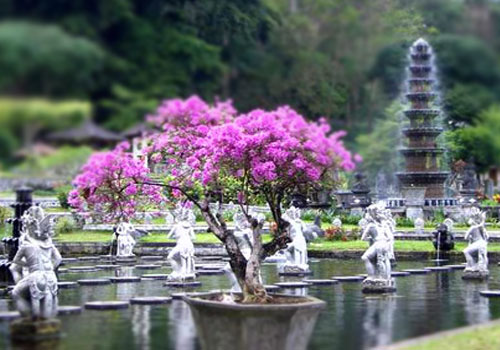 Amlapura is a city in Bali, Indonesia and is the regency seat of Karangasem. Today, Amlapura is an important transportation hub in east Bali and has several beautiful palaces or puri from the turn of the century. There is a western, a northern, a southern and an eastern puri as well as several others, all still occupied by members of the royal family and only the Puri Kangin (the eastern palace) on the main road to the market is easily visited. This is worth a look, as it gives a vivid impression of how local royals used to live. The palace buildings themselves are in fact an eccentric blend of Chinese and European details set in what is essentially a traditional Balinese compound with several pavilions and room surrounded by pools and connected by walk ways. The main hall is called the "Bale London" and the furniture curiously bears the crest of the British royal family. One can even rent rooms here the perfect accommodation for the aspiring aristocrat.
Best Things To do
Visit the Picnic Spot
Visitors can go to the beautiful valley of Sidemen and have a picnic out there amidst the hills and startling scenery. Many rivers flow through this region which definitely shows the possibility of rafting done here which definitely gives the people a beautiful sight of the valley from different perspectives.
Taste the Local Cuisines
Nasi Sela - a typical food from Karangasem Regency in the form of a mixture of rice and chopped sweet potato which makes it unique. Initially this dish was useful to increase the volume of rice during the difficult times of ancient times. However, currently Nasi Sela is one of the dishes favored by local people and tourists visiting Bali. In addition, now this rice dish can be mixed with various kinds of side dishes of chicken betutu, urap, sate lilit, and others. Plecing Telengis - this food is made from steamed or boiled spinach or kale, then mixed with a typical Balinese spice called Telengis. The origin of the telengis spice is coconut milk which is cooked in the form of oil so that it presents a delicious and different taste compared to other processed vegetables.
Pepes Telengis or Pepes Klengis – this Pepes dish uses a variety of meats, including chicken, shrimp and fish that are mashed and steamed wrapped in banana leaves which uses telengis which is coconut oil and of course it is combined with other spices that make the taste even more delicious.
Sate Serapah - this satay dish is made from chicken, but not the meat but the skin, intestines, liver or other offal. Not only that, but the seasoning is also different compared to other satays that use yellow spices with a different taste, in general, sate is flavored with peanuts.
Diving at Padang Bai
One of the best activities in Bali. There are some very beautiful diving spots just a few minutes from the main beach. Most of these spots are perfect for beginners or for diving lessons. There are also more challenging dive sites with great opportunities to see reef sharks, various species of stingrays, pelagic fish and large groups of fish.
Adventure in Water Sports
Indulging in water sports is such a multi-benefit activity which will refresh you a lot and it is a must thing to do in this water-side area. In this city, there are a lot of water sports like snorkelling, white water rafting and submarine safaris which will give a refreshing start to your vacation. You can experience a variety of water sports like snorkelling, scuba diving and surfing here.
How to Get There
International flights to Bali will land at Ngurah Rai International Airport (Denpasar Airport), located 13km south of Denpasar and 2.5km from Kuta. From the airport, you can easily hire a taxi to your destination. For those coming from Denpasar, you can take a taxi or bus to Amlapura via Kuta Point by Ardenia, Kuta, and Tirtagangga in around 4 hours.