Kintamani
---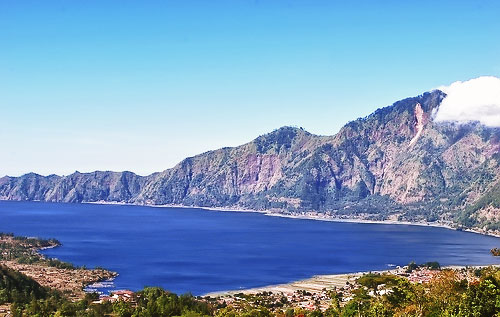 One area which has beautiful scenery and super exotic in Bali is Kintamani area. Different tourist attractions in Bangli its location is called Penelokan. The villages of Kintamani and Penelokan provide a great view of Mount Batur and its fantastic lake. Seven miles in diameter and sixty feet deep, Batur caldera is simply astounding. From Penelokan, take the road Kedisan on the shores of the lake where boats can be rented to cross over to Trunyan. The spectacular mountainous region around Kintamani with its deep Crater Lake and bubbling hot springs, make this region a must to visit.
The charm of beautiful nature create the impression of a peaceful, overlay view of the valley is also Batur Lake is the largest lake in Bali and Mount Batur one volcano is still active, standing in the middle of the caldera make this area into one of the most favorite tourist destinations, as well as demand. The distance taken into this region is approximately 2 hours' drive from Denpasar or Karangasem or Lovina. Lined along Penelokan restaurant offers the advantages of natural beauty of the valley and mountains, proved to be very attractive, while relaxing enjoying lunch, visitors are treated to stunning natural panorama. Kintamani is really great for day trips, trekking or simply for getting away from it all for a few days.
The district is the earliest known kingdom in Bali, dating from the tenth century. The evenings get cool up here but it's well worth the stay overnight to climb the volcano and watch the sunrise. Many cheap cottages are available here.
Tour to Kintamani is a very impressive experience where Kintamani Area have very beautiful panorama located in plateau and also encircled by mountain atmosphere with the windblast from Mount Batur. Carpet of Batur Lake seen far below and also there are local resident house beside of Batur Lake. Beside of that, Mount Batur which to date still be active growing its beautiful for Kintamani Area. Occupying the middle of mountains and highlands of Bali Island, the air temperature of Kintamani, Bangli is pretty cool, even in very cold at night to Kintamani region, the land is relatively fertile, lemon trees, coffee and chocolate can develop optimally, so it is not surprising citrus production is highest in Kintamani. This area in the off-season is usually rainy season, will be accompanied by the decline in fog. Kintamani is located in Bangli regency. Bangli is a county located in the midst of island, one of the districts that do not have a coastline, located at an altitude of 400 meters above sea level, causing the area is very cool, plants can grow and flourish.
How to Get There
Kintamani can run through Payangan or from Denpasar through the Sangeh monkey forest, Plaga and Lampu, arriving to the north of Kintamani. Bemos to Kintamani are available from Ubud via Sakah (notable for its huge "Baby" statue). They also run via Tampaksiring and Bangli. From Denpasar bemos leave for Kintamani from the Batubulan terminal until late afternoon.
Nearby Tourist Attractions

Lake Batur
Mount Batur
Trunyan Tourism Vilage
Accommodations

Mapa Lake View Bungalow
The Ayu Kintamani Villa
Bali Sunrise Villas & Restaurant.