Mount Agung
---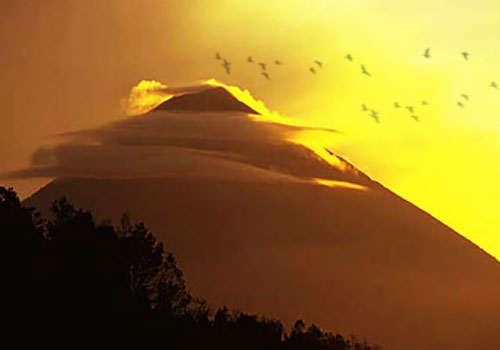 Mount Agung is Bali's biggest trekking challenge. The most revered and the highest peak in Bali, Mount Agung stands tall at over 3100 meters. Fortunately, Bali's highest and most revered mountain is not difficult to climb. The tip is to start well before dawn, armed with a strong flashlight, water, food, and warm and waterproof clothing. The best time for a climb is during the dry season of April through October. But climbing is not permitted when major religious events are held at Pura Besakih, which is most of April. The shortest and most popular route up Mount Agung is from Selat or Muncan; involving the least walking due thankfully to serviceable roads from both Selat or Muncan town to the Pura Pasar Agung, or Agung Market Temple. From the temple, we can climb to top in as little as 2 short hours.
Still an active volcano Mount Batur sits 1,500 meters above sea level and takes about an hour's drive northeast of Denpasar. Smoking and rumbling takes place periodically at this mountain. Two eruptions occurred in 1917 and 1926 and more recently in 1994. A crater lake was formed about 30,000 years ago after a major eruption. Many vantage points offer spectacular views of the area. Hiking tours start at 3a and end at 6a when one reaches the summit to view a beautiful sunrise.
The Balinese consider Mount Agung to be the center of the world. All temples in Bali point towards Mount Agung. The Mother Temple of Besakih, with its uncountable steps, solemnly wait for the arrival of the gods and the goddesses, for when they step down from heaven, they come to Besakih by way of Mount Agung.