Tegan Kiri Waterfall
---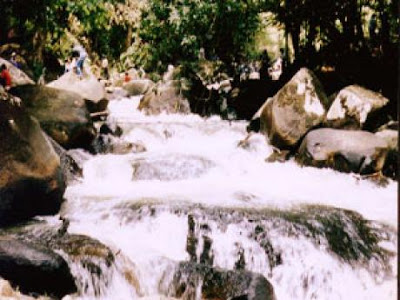 Bungo regency in Jambi has some very interesting attractions to visit, one of which is Tegan Kiri waterfall. This waterfall has a height of 10 meters with beautiful natural views and still genuine. This waterfall comes from the hills with a height of 26 meters. This waterfall is precisely located in the Rantau Pandan hamlet, Rantau Pandan Subdistrict. This waterfall is also now becomes the source of water for residents of Rantau Pandan.
Tegan Kiri waterfall was first discovered by Orang Kubu or Suku Anak Dalam (SAD), they then told to the villagers. The descendants of those who find this waterfall is now keeping the waterfall. They consist of two families; the family who guards the entrance and parking area.
To go to the location of Tegan Kiri Waterfall, we have to travel overland at a distance of approximately 30 km from the capital of Bungo, Muara Bungo, Jambi. The Visitors can use a motorcycle or private car and we must to pay admission fee for Rp. 10,000 / person and pay for parking about Rp. 5,000 / vehicle.
After arriving at location, visitors should down to the stairs of concrete to reach the point of Tegan Kiri Waterfall. However, the visitors will not be disappointed when reaching the waterfall, for all the tiredness will vanish after seeing the beautiful landscape around the waterfall.

Latest News
A campaign for hidden paradise tourism in Jambi has been launched. Tourists are invited to enjoy various tourist objects that apply health protocols. The aim of this campaign is to promote the beautiful Jambi tourist destinations and their superior products. The Jambi Exploration Campaign-The Hidden Paradise in Jambi is part of the Indonesian National Proud Movement (Gernas BBI) and Proud Tourism #diIndonesiaAja (BBWI) program which focuses on raising tourism potential and regional superior products. More than that, what Jambi has done can be an example for other provinces. This spirit…
---
Kaco means glass in the local language. The clear water in this lake is clear as glass. Like pearls in the middle of jungle, that is Kaco Lake. Hidden among grove of Kerinci Seblat National Park (TNKS) of Kerinci Regency, Jambi Province, this lake has clear water. The beauty of Kaco Lake appears during the full moon because it emits light that can illuminate the surrounding area. It was so clear so that Kaco Lake able to reflect even dim light at night. Naturally, many travelers struggle to reach Kaco…
---
Lake Kerinci lies at the foot of Mount Raja, in the district of Kerinci Lake and Keliling Danau District, Kerinci Regency, Jambi Province. In Jambi, Kerinci is the largest lake with an area of 4,200 hectares with a depth of 110 meters, while its height reaches 783 meters above sea level and the diameter along 70 Km. According to geologists, Kerinci Lake is part of the valley in Mount Kerinci. The valley is then formed as a small eruption caused by the volcano and a decrease in the Bukit Barisan…
---
Kerinci Seblat National Park Kerinci Seblat National Park is one of the largest national parks in Indonesia. Kerinci Seblat protects almost 14,000 sq kilometres of tropical rain forests in central western Sumatra running down the Barisan mountain range and its foothills and covering parts of four provinces. The terrains varies from lowland forests up to the peak of mighty Mt Kerinci at 3,805 m. This national park is a UNESCO World Heritage Site as part of the Rainforest Heritage of Sumatra and one of the most important tiger reserves in the world.…
---