Hotels In Jambi
---
Wiltop Hotel Jambi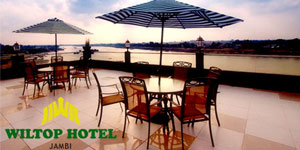 If you truly appreciate the warmth of a sincere welcome, plus a comfortable room and quality service delivered professionally by friendly, smiling staff, then Wiltop Hotel Jambi is the place for your stay in the central business of Jambi City. The hotel is located adjacent to one side of the city's "Golden Triangle" central business district, the main business district of Jalan Sultan Thaha and within a walking distance to WTC Shopping Mall. Easy access from Sultan Thaha International Airport, it is only about 15 minutes to reach the hotel.
Jl. Sultan Thaha No. 17
Jambi, Jambi 36111
Indonesia
Phone: +62 741 7837088
Web: wiltophotel.com
Aston Jambi Hotel & Conference Center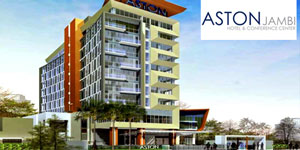 Features 153 rooms with the option of Superior twin and king beds, Deluxe rooms, Suites and a Governor Suite and 6 meeting rooms for MICE (Meeting Incentives Conference Exhibitions). Facilities include 24 hours reception for fast check in and check out, Swimming Pool, Mini Gym, Restaurant, Lounge, Business Center, FREE WIFI access in all hotel area, 24 hours Room Service, 24 hours Doctor Service (on call), Concierge Service, Car Rental Services, Airport Transport Service (on reguest).
Jalan Sultan Agung No.99 Telanaipura
Jambi, Jambi 36122
Indonesia
Phone: +6274133777
Web: astonhotelsinternational.com
Abadi Suite Hotel & Tower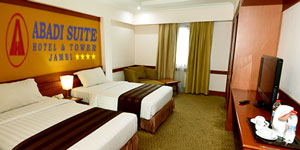 Renowned throughout the city for the sheer opulence of its rooms and suites for the unique taste of our restaurant and the grandeur of its facilities. Nestled in the center of Jambi business district, provides you 124 Premium class of rooms with fabulous views: the exotic Batanghari river and the dynamic town view. we will give you a taste of the luxurious features that are so much during your stay at our hotel.
Jl. Prof. HMO. Bafadhal No. 111
Jambi, Jambi 36134
Indonesia
Phone: +62 741 7555800
Web: abadisuite.co.id
Golden Harvest Hotel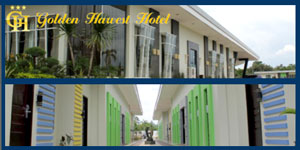 A three-star hotel located at 35 minutes from the center of Jambi City and 45 minutes from Sultan Thaha Airport. We offer you a quiet and relaxing stays with us. Feel the morning fresh air as soon as you open the door and enjoy our famous Peking Duck made by our Jumbo Restaurant.
Jl. Pattimura no.65 - Simpang Rimbo
Jambi, Jambi 28292
Indonesia
Phone: +62741 581758
Web: goldenharvesthotel.com

Latest News
A campaign for hidden paradise tourism in Jambi has been launched. Tourists are invited to enjoy various tourist objects that apply health protocols. The aim of this campaign is to promote the beautiful Jambi tourist destinations and their superior products. The Jambi Exploration Campaign-The Hidden Paradise in Jambi is part of the Indonesian National Proud Movement (Gernas BBI) and Proud Tourism #diIndonesiaAja (BBWI) program which focuses on raising tourism potential and regional superior products. More than that, what Jambi has done can be an example for other provinces. This spirit…
---
Kaco means glass in the local language. The clear water in this lake is clear as glass. Like pearls in the middle of jungle, that is Kaco Lake. Hidden among grove of Kerinci Seblat National Park (TNKS) of Kerinci Regency, Jambi Province, this lake has clear water. The beauty of Kaco Lake appears during the full moon because it emits light that can illuminate the surrounding area. It was so clear so that Kaco Lake able to reflect even dim light at night. Naturally, many travelers struggle to reach Kaco…
---
Lake Kerinci lies at the foot of Mount Raja, in the district of Kerinci Lake and Keliling Danau District, Kerinci Regency, Jambi Province. In Jambi, Kerinci is the largest lake with an area of 4,200 hectares with a depth of 110 meters, while its height reaches 783 meters above sea level and the diameter along 70 Km. According to geologists, Kerinci Lake is part of the valley in Mount Kerinci. The valley is then formed as a small eruption caused by the volcano and a decrease in the Bukit Barisan…
---
Kerinci Seblat National Park Kerinci Seblat National Park is one of the largest national parks in Indonesia. Kerinci Seblat protects almost 14,000 sq kilometres of tropical rain forests in central western Sumatra running down the Barisan mountain range and its foothills and covering parts of four provinces. The terrains varies from lowland forests up to the peak of mighty Mt Kerinci at 3,805 m. This national park is a UNESCO World Heritage Site as part of the Rainforest Heritage of Sumatra and one of the most important tiger reserves in the world.…
---